How to Build a Slab Roller
Slab rollers are needed when you want to roll clay to a consistent thickness. Various sized slabs can be created. It is particularly popular among potters, who use the roller to create clay slabs and to print designs on those slabs. Various thicknesses of slabs can be created from rollers. After building a slab roller, the artist can perfect the quality of the slab that is being rolled by applying a steady amount of heat and humidity. This will prevent the clay from curling. The clay slab can be adjusted by adding various screws and joints.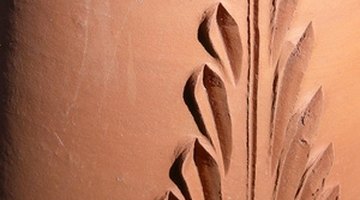 Miter four pieces of 1/2-inch by two-inch by 24-inch stock framing lumber into a 45-degree angle with your miter box and back saw. Miter two more six-, 12- and 18-inch pieces to the identical angle. Assemble in the wood box.

Assemble the 24-inch wood pieces to make a square frame. Dry clamp the pieces and ensure all corners make a 90-degree angle with the carpenter try square.

Put the braces on each corner of the square frame. Mark each brace hole position with a carpenter pencil.

Drill a hole in each marked location with a 1/8-inch bit. Secure all braces to the 24-inch frame with manufacturer-supplied fasteners.

Remove all screws from your top and bottom pieces of the frame. Keep the right and left side screws in place.

Separate the top and bottom pieces from the frame and replace them with 18-inch frame pieces. Dry clamp them together. Use a carpenter try square to check that all corners create 90-degree angles.

Mark the brace hole positions on the frame and drill holes into the corners to secure the pieces to the frame.

Repeat the steps until the 12- and six-inch pieces are drilled. Disassemble all the pieces.

Seal and sand the frame pieces with a clear acrylic wood treatment.
References
Tips
Clean the slab roller after each use with warm water and a soft brush.
The framing pieces can be assembled in whatever combination you like, but the bottom and top lengths and side lengths need to match.
The roller will make 24-inch long slabs, that are 24, 18, 12 and six inches wide.
Writer Bio
Phillip Woolgar has been a reporter since 2008 in communities throughout western Canada. His work has appeared in Canadian national publications such as the "Globe and Mail" and the "Vancouver Sun." In 2009, he received second-place recognition in the Alberta Weekly Newspaper Association's Excellence in Arts and Culture writing category. Woolgar graduated from the Langara College Journalism Diploma program in 2008.
Photo Credits
Contours in Clay image by John Sfondilias from Fotolia.com
More Articles