How to Grease a Trash Compactor
If your home trash compactor seems noisier than usual or is taking longer than usual to cycle, it may need to be greased. Moisture, such as normal kitchen humidity or liquids left in thrown-away bottles and cans, can affect your trash compactor's performance.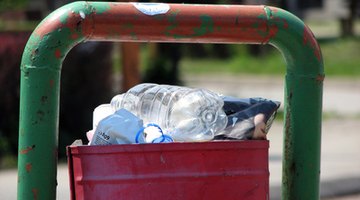 Step 1
Remove the drawer assembly from the compactor by pulling the assembly forward and over the rollers on the compactor's sides.
Step 2
Pull the entire compactor free from under your cabinet if it is housed or perched there.
Step 3
Unplug the compactor from the wall.
Step 4
Line up the holes on the sprocket and gear box, then insert a hole punch through both slots to hold them firmly in place. Remove the 15/16 nut with a wrench while holding the sprocket in place with the hole punch.
Step 5
Remove the sprocket and its washer after the nut is removed. It will pull right off after the bolt is removed.
Step 6
Remove the trunnion bearing. It is located on the gear box. Once it is removed, lubricate it inside and out liberally with bearing grease.
Step 7
Grease the length of the drive screw.
Step 8
Reverse the above steps to reassemble your compactor.
Writer Bio
Ashton Daigle, a New Orleans native, graduated from Southeastern Louisiana University in 1998 and went straight to work as a journalist. In 2005 he tackled the biggest news story of his life - Hurricane Katrina. Daigle is writing a collection of essays: What It Means to be a Saints Fan.
Photo Credits
More Articles