How to Match Exterior Paint on a House
Matching exterior paint is important if you want a paint job to blend in seamlessly with the original paint. There are several methods you can use to match your house's exterior color with minimal trial and error. Do not commit to purchasing large quantities of paint until you have a color match.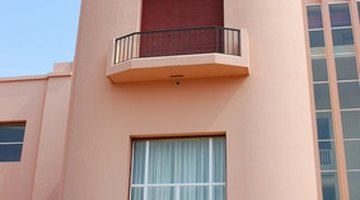 Locate a hidden part of the wall painted the color you'd like to match. Pick a location behind a hedge or at the bottom of a wall in the back of the house. Using a razor, scrape off a small patch of paint about the size of your thumbnail. Bring the sample to a paint store to match.

Visit your paint store of choice and obtain paint sample cards. Pick the cards that look closest to your exterior color. Hold up the samples to your home's exterior to find the best match. Test the colors in both sunny and shady spots.

Take a digital picture of your house's exterior walls. Snap several shots at an unshaded part of the wall that is not subject to direct sunlight. Print out the photos or bring the camera to the paint store and use the images to match the color.

Buy a small jar of sample paint. Pick a shade that closely resembles your exterior color or use the results from the chip, color card or camera test. Find a hidden spot on your exterior wall and, using a small paintbrush, paint a 1-inch by 1-inch square. Wait 30 minutes for the square to fully dry and compare the results with the existing paint color.
References
Tips
Ask if your paint store has a digital color matching program, which may be more accurate than looking at the color comparisons.
Once a paint match is made, save a small jar of the paint with the color code attached in case you need more for future projects.
Writer Bio
Tallulah Philange has worked as a journalist since 2003. Her work has appeared in the "Princeton (N.J.) Packet," "Destinations" magazine and in higher education publications. She also has edited and produced online content for those publications. Philange holds a Bachelor of Arts in print journalism from American University and a Master of Arts in communication, culture and technology from Georgetown University.
Photo Credits
More Articles