Instructions for a Whirlpool Duet Front Load Dryer Rack W10121663
The Whirlpool Duet front load dryer rack, which is model number W10121663, works with Whirlpool Duet, Whirlpool Duet Sport, KitchenAid Ensemble, Maytag Epic and Maytag Epic z dryers. These dryers all are front loading dryers, with a door on the front of the machine instead of the top. When you use the front load dryer rack, you cannot do regular tumble drying. Things such as delicates and ball caps can be dried using the front load dryer rack.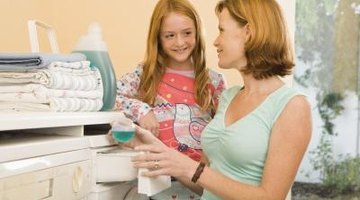 Open the dryer door.

Insert the dryer rack inside the dryer drum. You must line up the wire on the back of the rack with the ledge of the inner dryer panel.

Push the front of the dryer rack over top of the lint screen to secure it in place.

Place your laundry item or items flat on the dryer rack. Don't let anything hang over the dryer rack.

Close the dryer door.

Use the control panel on your dryer to set a timed drying cycle. You cannot use an automatic drying cycle when you are using the dryer rack.
References
Writer Bio
Jamie Lisse has been writing professionally since 1997. She has published works with a number of online and print publishers. Her areas of expertise include finance and accounting, travel, entertainment, digital media and technology. She holds a Bachelor of Arts in English.
Photo Credits
Jupiterimages/Pixland/Getty Images
More Articles