How to Identify an Antique Dining Table
To the untrained eye, understanding the differences between an antique dining table -- a table 100 years or older -- a historic reproduction, and a table with legs from another piece can make the difference between a costly mistake and a lucky find. With so many reproductions on the market and salvaged tables constructed with elements off multiple pieces of furniture, it takes skill and knowledge to distinguish the details that determine an authentic antique.
Period Forms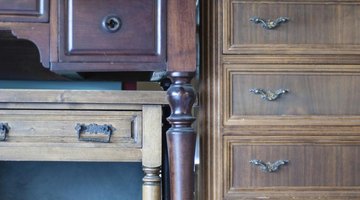 Knowing the design forms associated with different furniture styles, periods and eras helps when identifying an antique dining table. Each period and age has its own furniture styles associated with it that provides the telltale components of an authentic antique. For antique dining tables, hunt for leg and feet styles, crafted joinery and furniture-maker signatures, typically found on the underside or inside apron of the table.
Shapely Legs and Feet
Feet styles definitively reflect the furniture design and period. During the Queen Anne period from 1720 to 1760, for example, American furniture-makers adopted different styles for the feet. The foot at the end of each leg may resemble pads, claws holding a ball, or even a triffid foot, a sculpted or carved three-toed foot. During the Federal period, from 1790 to 1815, for example, table-feet styles might extend the look in the tapered leg or end in a spade- or bulbous-shaped foot. Leg styles varied from cabriole -- a softly curving leg with an incurved ankle and outcurved knee -- a straight fluted Marlborough leg, spider legs, square or saber legs that sweep outward from the knee.
Premium Woods
An antique dining table generally takes two people to move it because of its all-wood construction. Antique dining tables have no manufactured wood components, but they may have inlaid wood as part of the tabletop design. Favored woods for antique dining tables include poplar, oak, mahogany, walnut, maple, pine and wood veneers -- thin slices of wood instead of thick boards. Veneered woods were often used for inlaid designs or overlays of common woods.
Table Construction
Before the industrial era, hardware was made by hand, that is, if it's present at all in an older piece. Where elements of the table connected together, look for mortise and tenon joinery or dovetailed joints. Depending upon the period, table edges and aprons may include hand-carved leaves and flowers, roses, shells and acanthus.
Simple Designs
Just because something looks modern, it still may be over 200 years old. For example, an antique Shaker dining table has clean, smooth lines and an resembles medieval trestle table. With two simple formed T-shaped trestles at either end, the medial stretcher is directly beneath the tabletop rather than closer to the floor as in earlier designs. To identify Shaker antique tables, look for dovetailed joints or mortise and tenon joinery.
References
Resources
Writer Bio
As a native Californian, artist, journalist and published author, Laurie Brenner began writing professionally in 1975. She has written for newspapers, magazines, online publications and sites. Brenner graduated from San Diego's Coleman College.
Photo Credits
JordiRoy/iStock/Getty Images
More Articles