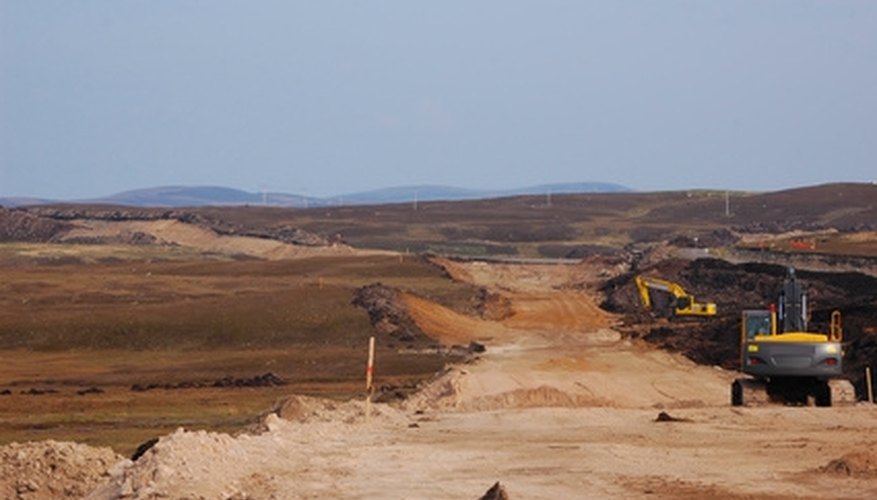 The Bobcat Company, a division of Ingersoll-Rand, makes a number of attachments for this purpose. Land-clearing may involve anything from removal of small brush and grasses to clearing stands of large trees. Safety must be considered, whether clearing on hilly terrain where heavy equipment may roll, or encountering danger from falling trees. Federal, state and local governments may regulate land-clearing, especially in wetlands or where silting may affect rivers and streams.
Determine the type of vegetation and debris to be cleared and the proper equipment for each. Acquire necessary permits if required.
Grind down large trees and undergrowth with the Bobcat forestry cutter attachment. The cutter can be lowered onto a small tree, or struck repeatedly to the side of a larger tree. The forestry cutter also contains an attachment that mulches tree debris. The forestry application kit prevents objects from entering the cab of the loader.
Clear thick brush and grasses with the Bobcat brushcat rotary cutter or flail cutter. Either attachment also mulches small trees and saplings up to 3 inches in diameter. If clearing between mature trees is required, use the Bobcat skid steer loader. To clear tree stumps, use the Bobcat stump grinder.
Clear small branches, rocks and other debris using the Bobcat root grapple. Loose brush and small branches can be turned to mulch using the Bobcat chipper.
Things You Will Need

Bobcat loader
Bobcat forestry cutter attachment
Bobcat forestry applications kit
Bobcat brushcat rotary cutter
Bobcat flail cutter
Bobcat brush saw
Bobcat skid steer loader
Bobcat chipper
Bobcat stump grinder
Bobcat root grapple
Safety gear
Applicable permits
Tips
New use of wetlands must be approved by the Environmental Protection Agency.

The Bobcat forestry cutter will not work without the Bobcat forestry applications kit.