Neo Mission Wood Arm Futon Assembly Instructions
The futon began appearing in the 1970's as an alternative design for seating and sleeping among apartment dwellers and college students. The design was inspired by traditional Japanese sleeping mats, which are folded and stored during the day. From these humble, pragmatic beginnings, the futon has moved into mainstream décor with stylish wooden frames and comfortable mats, and they still fold out to make alternative sleeping space. Allow yourself and a helper about two hours to assemble a new futon.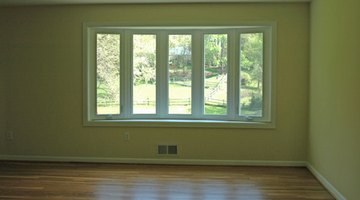 Step 1
Check the parts and pieces of the futon in the box against the instruction manual list. If any are missing, contact the manufacturer.
Step 2
Attach the right and left folding mechanisms to the corresponding braces with the designated bolts and nuts. Use the small hex key to tighten them. Attach the assembled pieces to the wooden arms, left and right. The brace part of the assembly will be bolted to the wooden arms.
Step 3
Connect the two halves of the metal stretchers, which make up the basic lower frame of the futon, and attach the short, metal leg at the mid-point. Bolt the stretchers to the wooden arms, front and back. You will have a rectangular frame when done with the arms at either end, and a short metal leg mid-way on the front and back.
Step 4
Combine the two halves of the back and seat mesh frames by sliding the tubular inserts into the metal tubes of the frames. Secure with the provided screws. The wire mesh part of the frames should face downward as you assemble them.
Step 5
Attach the seat frame to the folding mechanism on each side with bolts. Finger tighten the bolts as you insert them. When all four are in place, use the small hex key and wrench to tighten them evenly. Repeat the process for the seat back. Both back and seat will be attached to the folding mechanism.
Step 6
Place the wire hooks over the metal tube of the seat and over the stretcher beneath to secure the seat. There should be three hooks, two for the front edges, and one for the mid-back. Hook the mattress guides into the wire mesh of the seat near the front corners.
Step 7
Clean the wooden arms with furniture polish. Place the futon mattress in position and the futon is ready for use.
Resources
Writer Bio
Margaret Mills has been writing for more than 30 years, focusing on articles about religion, forestry, gardening and crafts. Her work has appeared in religious periodicals including "Focus on the Family" and similar publications. Mills has a Bachelor of Arts in English from Northwest Nazarene University.
Photo Credits
More Articles