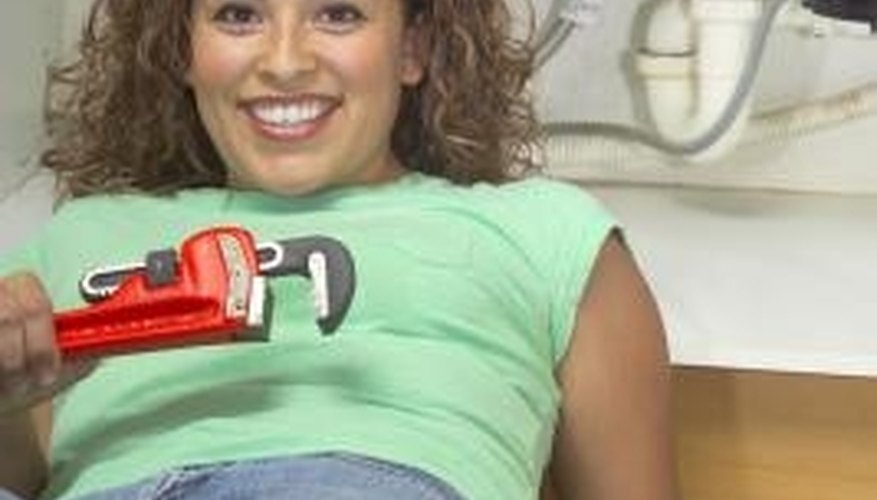 The handle is mounted on the body of the faucet, and may be positioned to the front or on either side. The faucet is designed for easy installation through the use of supplied flexible stainless steel water supply lines and a snap-on, quick-connect coupling for the spray hose.
Attach the supplied stainless steel flexible hoses to the metal supply lines on the faucet. Tighten the hoses with an adjustable wrench, being careful not to over-tighten the fittings. Don't twist or kink the metal lines. Fit the large O-ring onto the faucet base.
Make sure the faucet mounting hole in the counter or sink is clean. Feed the flexible hoses through the hole one at a time. Position the handle in the desired location on the faucet. Hold the faucet in the proper position and thread the washer and mounting nut onto the center tube from underneath the counter.
Tighten the faucet assembly by holding the nut while using the supplied fitting key to turn the center tube clockwise. To secure the faucet sufficiently, it may also be necessary to use an adjustable wrench on the center tube.
Connect the flexible lines to the water supply cut-off valves. Note that the hoses are marked for proper connection, red for hot and blue for cold. Tighten the connections carefully, keeping the flexible lines as straight as possible. Don't over-tighten. Leave the water supply valves off.
Thread the spray hose onto the hand sprayer and tighten. Slide the other end of the hose through the curved metal spout, then down the faucet center tube. Snap the spout into place on the faucet.
Slip the spring onto the spray hose from underneath. Attach the small O-ring and quick-connect coupling to the end of the spray hose. Tighten by hand. Install the spray hose on the faucet quick-connect union by pulling back on the coupling retaining ring and pressing it onto the union. The coupling snaps into place.
Turn on the hot and cold water supply valves and check for leaks.
Tip
Flush the water supply lines before installing the new faucet.