How to Convert a Simplicity 3-in-1 Crib to a Transitional Bed
Parents know that children quickly outgrow their cribs. These expensive pieces of baby equipment are used for less than two years. This is where 3-in-1 furniture makes economic sense. Removing the dropside converts the crib to a toddler day bed with high rails on three sides. When the child outgrows the toddler bed, the long side and the dropside of the crib become the headboard and foot board for a twin bed. Simplicity crib manufactures 3-in-1 cribs under Simplicity and Graco logos. Both logos have 3-in-1 cribs in a variety of styles.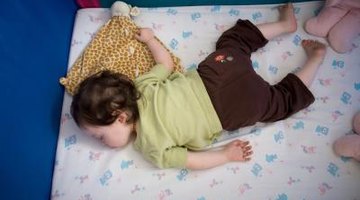 Step 1
Remove the mattress from the crib.
Step 2
Unscrew the dropside brakes from either side of the dropside of the crib, using the Phillips-head screw driver. The brakes are located at the bottom of the dropside of the crib. They are the plastic stops that prevent the side from sliding all the way to the floor. Set aside.
Step 3
Lower the dropside completely to the floor. Slide the lower guides away from the sides of the crib. The guides are the holes on either side of the dropside that slide up and down on the metal side rails attached to the crib. Lower the top of the dropside so that the top guides are free of the side rails. Remove the dropside.
Step 4
Replace the dropside brakes in their holes and tighten the screws. This prevents the small pieces from getting lost.
Step 5
Drop the mattress support to its lowest setting. Place the pegs on each of the four corners of the spring mattress support into the lowest notches on each side of the crib. Place the mattress on the support.
References
Writer Bio
Based in Nashville, Shellie Braeuner has been writing articles since 1986 on topics including child rearing, entertainment, politics and home improvement. Her work has appeared in "The Tennessean" and "Borderlines" as well as a book from Simon & Schuster. Braeuner holds a Master of Education in developmental counseling from Vanderbilt University.
Photo Credits
Jupiterimages/Photos.com/Getty Images
More Articles