Tefal Juice Master Instructions
The Tefal Juice Master is an excellent way to create homemade fruit and vegetable juices and sauces for the base of recipes like sorbets and salad dressings. This juicer has the ability to squeeze up to 3 pounds of oranges or lemons or 2 pounds of grapefruits, and recipes are included in the instruction manual. Juicing at home is both economical and promotes healthy eating habits for your entire family.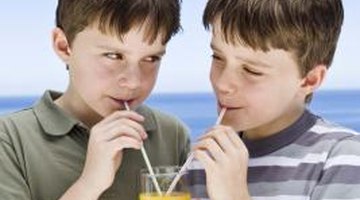 Step 1
Before using the appliance for the first time, wash the bowl, filter, pusher and lid in the dishwasher. Clean the motor unit with a damp cloth.
Step 2
Wash all of the produce, and peel any fruits or vegetables that need peeling. Next, cut the produce so that the slices fit into the top of the Juice Master. Remove any seeds.
Step 3
Place the Tefal Juice Master on a flat surface away from water and gas heat, plug it in.
Step 4
Drop the produce into the top of the appliance. Fill the bowl until the produce presses into the blades. To juice, use the high speed button for items such as carrots and oranges. Use the low speed button for more delicate items like tomatoes and pears.
Step 5
Remove the bowl, and pour the juice into a glass.
Step 6
After use, immediately clean the pulp off the various Juice Master parts in the dishwasher or by hand washing.
References
Resources
Writer Bio
Katie Yancey is a blog writer in Fredericksburg, VA, and has been writing since 2006. Her news bites and commentary regularly appeared in Food & Water Watch's Smorgasboard. Yancey received her Master of Fine Arts degree in illustration from Savannah College of Art & Design, and shares her love of art and food in her writings.
Photo Credits
Jupiterimages/Goodshoot/Getty Images
More Articles