How to Troubleshoot a Delta Planer
Delta Porter cable planers are available in free-standing or bench-mounted variants. The tools are good for rapid leveling of boards. Twisted, cupped or even bowed wood pieces can be processed if they have one level face. The tool is sometimes called a thickness planer because it can be used to accurately alter the thickness of a board. Problems with the Delta planers can include the units not running, chips not ejecting, feeding problems and circuit breakers tripping frequently.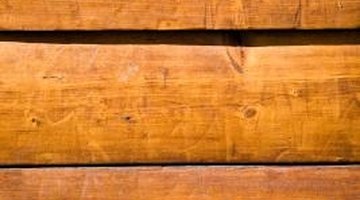 Verify that the planer is plugged in and that the parts are in place if the planer won't run. Some parts need to be installed as a safety measure before the machine will run. These can include the dust shroud and top cover. Check that they are seated properly.

Change the electrical brushes if you continue to have problems running the planner. Remove the top cover of the planer and look for the brush cap. It will be adjacent to the coil-like part in the middle of the motor. On the DW735, it's in the right rear of the unit. Remove the worn brushes and put new brushes in their place. Replace the covers and run the planer for 10 minutes to seat the brushes.

Clear the dust shroud of debris if chips don't eject from the rear of the unit. The dust shroud and fan must be clear of debris and the shroud must be in place.

Reduce the depth of cut if the circuit breaker keeps tripping. Turning the crank clockwise lowers the cutter head and counter-clockwise raises it. On the DW735, one turn equals 1/16 inch. Let the planer rest for a couple of minutes and then press the reset button.
Writer Bio
Patrick Nelson has been a professional writer since 1992. He was editor and publisher of the music industry trade publication "Producer Report" and has written for a number of technology blogs. Nelson studied design at Hornsey Art School.
Photo Credits
Jupiterimages/Photos.com/Getty Images
More Articles