How to Wash Buff Headwear
Buff headgear is a company formed in 2002, that prides itself in creating multi-functional headgear worn by outdoor enthusiasts including all contestants of CBS's survivor show. Buff pieces aren't hats, scarves or headbands, they're stretchy, long lasting products that you can use to protect and cover your head or neck or wrists, constantly twisting and reconfiguring the piece of fabric to meet your needs. While the company claims that your piece of Buff headwear might potentially outlast you, you should wash it from time to time.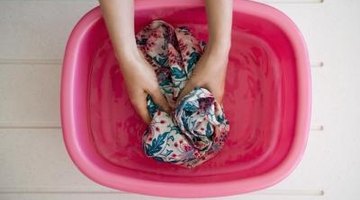 Fill a basin with warm water. Add 2 tbsp. of the detergent of your choice to the basin. Dip your hand in the water and swish it around so that the soap and the detergent become well-combined.

Submerge your piece of buff headwear in the basin. Scrub it, removing all the caked in sweat and dirt. Continue to scrub, until your piece of buff headwear looks sparkling new.

Pour out the now dirty water and rinse out the basin. Hold your piece of buff headwear under a continuous stream of cold water until the water runs clear from the the piece.
References
Tips
While you can put your headgear in the washing machine, handwashing it will keep it in tis best shape longer. If you do put it in the washing machine, make sure you wash it with other synthetics.
Writer Bio
Lane Cummings is originally from New York City. She attended the High School of Performing Arts in dance before receiving her Bachelor of Arts in literature and her Master of Arts in Russian literature at the University of Chicago. She has lived in St. Petersburg, Russia, where she lectured and studied Russian. She began writing professionally in 2004 for the "St. Petersburg Times."
Photo Credits
Jupiterimages/Polka Dot/Getty Images
More Articles