How to Assemble a Bonavita Cabana Crib
One of the most exciting parts of preparing for a baby is planning the nursery. After buying the furniture comes the less enjoyable task of assembling it, but this isn't hard if you have a Bonavita Cabana crib. This crib is easy to set up, and you can put it together it in one afternoon. This versatile piece can not only welcome your baby, but also accommodate her for years to come as it converts from a crib to a toddler bed, daybed and full-size bed.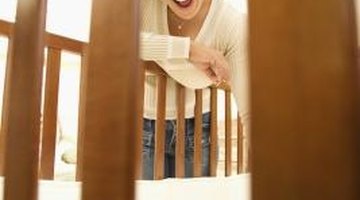 Insert the crib feet into the left and right legs on the headboard and footboard and screw in the threaded screws. Tighten them until they are secure.

Attach the stabilizer bars to connect the left and right sides of the crib, one toward the headboard and the other toward the footboard. Insert a barrel nut into each predrilled hole in the stabilizer bar. Align the barrel nuts to to capture the bolts. Insert a 3 1/8 bolt into each nylon washer, hole and barrel nut. Tighten all bolts with the Allen wrench that came with the crib.

Place a Phillips head screw through the stabilizer bar in the mattress support and then through the support bracket. Secure it with a wing nut. Choose a position for the mattress. Select the highest one for a newborn and lower it as your child grows. Insert a Phillips head screw in the correct hole for the mattress position, then through the support bracket, and tighten with a wing nut. Repeat on all four brackets.

Secure the headboard to the crib using two Allen head bolts and washers on the left bottom leg and two Allen head bolts and washers on the right bottom leg. Tighten with the Allen wrench.

Install the footboard. Prethread the four Allen head bolts into each predrilled hole in the bottom left and right legs of the foot board. Attach the footboard. Secure the Allen head bolts with the Allen wrench. Insert the 2-inch Allen head bolts through the inside edge of the crib sides and into the footboard. Secure with the Allen wrench.
References
Tips
Check for missing pieces, broken hardware and sharp edges before assembling the crib.
Writer Bio
Lucia Mata has been writing since 2008, covering parenting and design topics. Her work has appeared in both English and Spanish publications. Mata has an Associate of Arts in interior design from Salt Lake Community College and a Bachelor of Arts in communications from Utah Valley University.
Photo Credits
Creatas Images/Creatas/Getty Images
More Articles