How to Repair a Couch Frame
If you have a couch that sags or needs wood replaced, you should not delay. The repairs are easy to do and take little time. Even if you're not a do-it-yourselfer or handy with tools, you can still do the job at home on your own in a few simple steps. The couch will be as good as new once you have replaced the wood.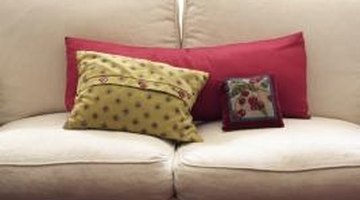 Remove all the cushions from the couch. Inspect the frame, looking for broken and rotten wood. This is the area you will need to replace.

Examine all of the areas where the cushions are. If the couch's springs or platform are broken, cut a piece of the plywood to fit into the broken area. This new plywood will create a platform to support that area of the couch and prevent sagging.

Continue around the rest of the couch. Saw off the old pieces of wood and replace them with new places where necessary, using a hammer and nails.

Add the foam padding to the cushions that need it. Unzip the area of the cushion you need to refill and add the foam padding. Smooth the padding out once it's inside the cover. Zip the cushion back up.

Put the cushions you removed in Step 1 back where they belong.
Check out this related video.
Writer Bio
Located in New York State, Benjamin Skinner has been writing technology and health articles since 2008. He has worked with large companies such as Women's Forum and Great Leap Studios. Skinner has more than six years of experience in the construction industry and understands the inner workings of buildings. He holds a Bachelor of Arts in English literature from Syracuse University.
Photo Credits
Goodshoot RF/Goodshoot/Getty Images
More Articles