Homemade Toolbox Hutch
A hutch is a short narrow closet with doors that is not more than five feet in height. Sometimes, the hutch is set on top of a matching bureau to give the allusion of a single piece of furniture in a grand style. A toolbox hutch requires no such allusion. Keep the design simple and functional. Follow the rule of five feet maximum height. The exterior color of the hutch is important only if the hutch will be stored inside the house. Hutches that need to be mobile must be outfitted with castors according to the planned internal weight stored in the hutch.
Doors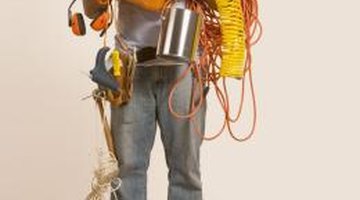 Plan the doors of the hutch according to the space available in the room. If the space cannot accommodate swinging doors, plan for sliding doors from top to bottom. Avoid strain of the lower back and plan for easy access to the heavier and the bulkier tools from the top compartments. Tools can be dangerous for children. Plan to use a lock on the doors for secure storage when the hutch is not supervised.
Shelves
Prior to planning the shelves, evaluate the size of each tool and the best storage position for each type of tool. Store the largest of the tools by category on separate shelves. Note the height required for the safe storage of each tool and plan the shelving accordingly. Shelving at different heights is fine so long as it is not difficult to return the tool to its assigned place. Avoid unused space with meticulous measurements of the tools and proper planning.
Pigeon Holes
Pigeon holes are smaller compartments that serve to hold the odds and ends of projects or smaller accoutrements for completing projects that must be stored in the toolbox hutch. Plan to use even smaller labeled plastic containers for storage of items in the pigeon holes. Stack the plastic boxes vertically with the label facing the front of the hutch. Store items such as screws, nails, mollies and drill bits in the pigeon holes.
Trays
Trays differ from pigeon holes in the toolbox hutch. Trays stack on one another and are easily returned to the toolbox hutch when the project is finished. Look for trays that fit the interior measurements of the hutch. Plan a tray system for all of those items that will not fit into the pigeon holes. Extension cords, rechargers, hot glue guns and glue sticks are all items that are stored in the tray system.
Writer Bio
Aviva Lee writes political commentary, poetry and children stories. She uses her more than 10 years of professional experience as an interior design consultant in Manhattan to provide expert advice for her readers. Her design column appeared regularly in "Quest Newspaper" prior to the publication closing.
Photo Credits
Jupiterimages/Comstock/Getty Images
More Articles