Full-Size Mattress Headboard Size
Also called a "double" bed, a full-sized bed is best used in small apartment bedrooms, in a guest room or for singles or teenagers. When decorating, a headboard adds a look of sophistication to a bed. Full-size headboards are designed to be used with full-size mattresses. Today, there are many headboard options available. They come in a wide range of materials and styles and the exact size of a full headboard can vary based on style.
Full Mattress Size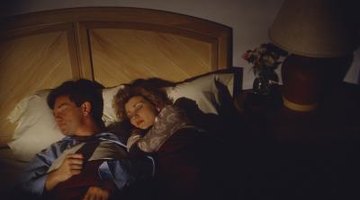 A standard full size mattress is 54 inches wide and 75 inches long. A full mattress is 5 inches shorter than a queen and thus is recommended for people up to 5 feet 5 inches tall. People taller than this often prefer a queen size mattress. At 54 inches wide, a full mattress only provides 27 inches of space per person if two people are sleeping in the same bed. A twin mattress is 39 inches wide. Thus, a full provides 12 inches less per person than if they were each sleeping on a twin mattress.
Full Headboard Width
There is not one standard size for a full headboard. They are typically at least 54 inches wide in order to accommodate a full-size mattress. The width of a full headboard often ranges from 54.5 inches to 58.5 inches. However, the exact width can vary based on the style of the headboard.
Full Headboard Height
Headboards come in a variety of materials. Wood and metal are commonly used. There is also a wide range of styles available. From low, sleek platform beds to large, tall sleigh beds, the height of a headboard can vary greatly. A typical medium-range height for a full headboard is 51 inches to 56 inches. However, a low headboard may be 43 inches while a taller headboard is over 60 inches.
Considerations
When shopping for a full-size headboard, you will likely see some headboards listed as "Full/Queen." This means that it can be adjusted to fit either a full- or queen-size mattress. While the height remains the same whether it is a full or a queen, companies may list two width sizes, as the queen is wider than a full.
References
Resources
Writer Bio
Lisa Hall began writing professionally in 1998. In addition to freelance writing, she worked as a graphic designer for international nonprofit organizations for six years until she started a home staging business in 2009. She frequently writes about art, design and home improvement. She holds a Master of Science in European social policy from The London School of Economics.
Photo Credits
Jupiterimages/Photos.com/Getty Images
More Articles