Exterior Paint Colors to Coordinate With Brick Homes
Brick is durable and classic so selecting paint colors to work with it can be a challenge. Avoid boring combinations by taking careful measure of the kind of brick, the amount of siding or trim to be painted and the particular character of your home. Then factor in colors you can live with and add some curb appeal.
Match the Brick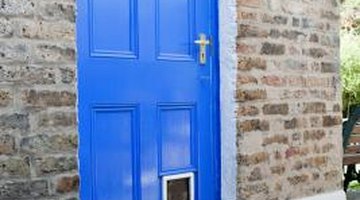 Brick can be as warm as pumpkin orange or as low-key as mud-flat browns and grays. Pick up the colors of the brick for your house paint and trim. A part brick façade with stucco and wood trim could be complemented with a creamy stucco paint and putty trim. A true red brick first level might have a sandy or brownish-pink siding paint on the upper floors and dark red or chocolate brown trim. Staying within the palette suggested by the brick means the colors you choose for the rest of the house will harmonize and show off all the textures of the exterior.
Bricked-Up
An all-brick façade calls for restraint. The brick itself is a strong design element so don't use paint to compete with it. Instead, color garage doors, front door and trim a subtle khaki green for interest that blends the landscaping with the solid block of the house. If your brick home is traditional in design, consider a shiny black front door, matching black shutters and white trim.
Stay with the Style
A home with brick trim or brick outlined door frames and windows can take a few liberties with paint color. Look to the style of the home to determine the most flattering color choices. A Spanish colonial with barrel tiles on the roof could be painted blinding white to highlight the brick sections of the exterior. Or color it melon or mellow flamingo pink to bring out its tropical architecture. A bungalow that is part brick can be a neat gray-green with black trim or a cheerful yellow with blue trim. Look around at the neighborhood to be sure that your theatrical color scheme doesn't make you the odd duck on the block.
Mixed Bag
Keep a brick home that is identical to all the other foursquares with front porches from disappearing into anonymity. Give it some personality with judicious splashes of paints in a mix of colors. For a classic red brick home, try a golden mango or marigold color on the front door. Paint a wide porch floor dark gray or light charcoal. Perk up wooden shutters with a muddied deep green and use lots of cream or white on the porch ceiling and gable trim. Very modest black touches like door handles, house numbers and a mailbox are sharp against the coordinated mix of colors and your home is the stand-out on the block.
References
Writer Bio
Benna Crawford has been a journalist and New York-based writer since 1997. Her work has appeared in USA Today, the San Francisco Chronicle, The New York Times, and in professional journals and trade publications. Crawford has a degree in theater, is a certified Prana Yoga instructor, and writes about fitness, performing and decorative arts, culture, sports, business and education .
Photo Credits
Jupiterimages/Polka Dot/Getty Images
More Articles