What Can I Use to Raise a Washing Machine's Height?
Regardless of whether you want to ease back strain from loading and unloading the washer, increase laundry room space or just level the washing machine, several options are available to elevate a residential washing machine. Although more options are available for owners of front-loading rather than top-loading washers, you're sure to find a solution to accommodate your needs.
Pedestal Drawer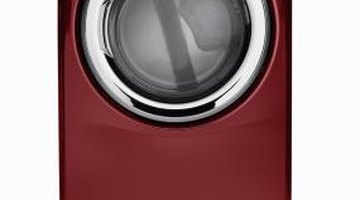 Place a washing machine on top of a pedestal drawer to increase the washer's height. A pedestal drawer is a feature available for most front-loading washing machines and is installed directly below the washer. The drawer can raise the washing machine's height by about 12 to 15 inches, based on the size pedestal you choose. Select a pedestal made by your machine's manufacturer to ensure the pedestal fits properly underneath your washer. Unfortunately, washing machine manufacturers rarely produce and sell pedestals for top-loading washers.
Stacking Kit
Certain front-loading washer and dryer pairs can be stacked one on top of the other with the aid of a stacking kit that you purchase separately from an appliance store. The stacking kit consists of sturdy metal brackets that help connect and stabilize the top appliance to the bottom appliance. While the least heavy appliance of the pair always should be placed at the top of the stack, if you have two washing machines they can be placed one on top of the other to save space and increase the height of the second washing machine.
Leveling Feet
At the bottom of a washing machine at each corner is a leveling foot, which you can extend to increase the height of your washing machine. The feet were designed to address inconsistencies in the surface where your washing machine is installed. A washing machine must be placed on a level floor for it to remain steady during a washing cycle. If it isn't stable, the washer will vibrate, and knock against walls and pound the floor, causing damage to the washer and the room where it's located. Review the instruction manual that came with your washing machine to learn how to increase the height of your washer with its leveling feet.
Plywood
Install a 1-inch plywood panel below the washing machine to increase its height and reduce vibration from an uneven flooring surface. The plywood works to absorb vibration and sounds that the washer makes when it agitates and spins. Ensure that the plywood is bolted to the floor to prevent the wood from sliding out while the washing machine runs.
References
Writer Bio
Christie Gross has been writing since 1998. Her work writing public policy platforms for elected officials nationwide has been featured in national and local newspapers under various client pen names. Gross has a Bachelor of Arts in English and political science, as well as a Master of Public Administration from the University of Delaware.
Photo Credits
Ryan McVay/Photodisc/Getty Images
More Articles