One Color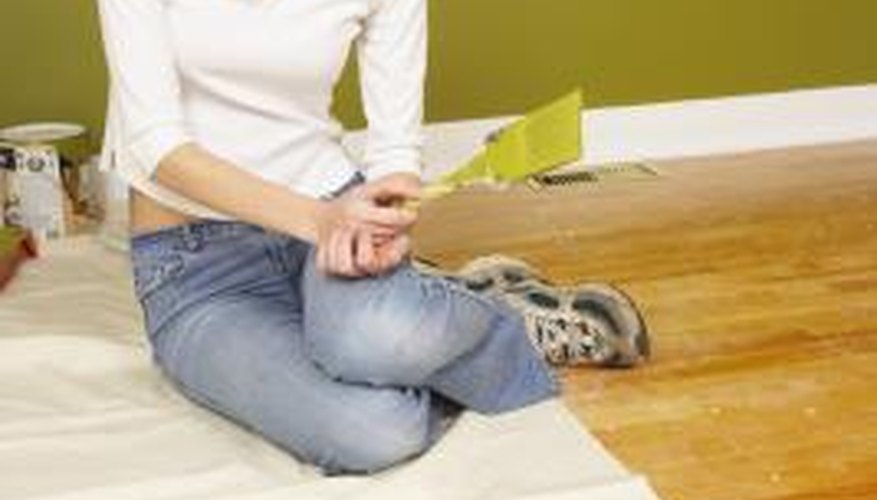 You must decide what colors will look right with your furniture, what colors are appropriate for the purpose of the room and even how many different paint colors to use. When deciding how many paint colors to use, you might be tempted to default to the standard: one color for the walls and one for the trim. There are other options, however, and all options are worth considering.
It's unusual to decide to paint the walls and the trim of a room in a single color. However, because this is different, it is also interesting — especially if you're painting over some original crown molding. This probably sounds counterintuitive, but this look is unique and may give the room the contemporary finish you've been looking for.
Two Colors
Two colors is standard. This includes one color for the trim and another color for the walls themselves. However, you can still break conventions and give your room personality without stepping outside this basic formula. Usually the walls are colorful and the trim is a light neutral. You can reverse this setup by making the trim black and the walls cream. You may also consider painting a colorful trim like a dark blue-gray against a light blue-gray room.
Three Colors
Ah, the accent wall. It's hard to say when the accent wall became a popular design choice, but a lot of people do it. The idea behind an accent wall is that you're going to pick one wall to be a different color than the rest of the walls in the room. Sometimes the accent wall is so slightly different from the other three walls you don't even notice the difference with the furniture in the room. Other times the accent wall is a radically different hue — meant to be more of a focal point. What you decide is up to you. The accent wall should have a color relationship with the other colors in the room. Use a color wheel to come up with a color scheme that works best for you. Choosing colors that are opposite each other on the color wheel produces the most dramatic effect.
Colors Distributed Throughout the House
Maybe you're trying to decide if you should paint your house's entire interior in a single color or if you should switch colors as you move from room to room. There are advantages and disadvantages to each method. The advantage of painting your entire house one color is that this practice creates continuity, predictability and even easy care — it's not hard to keep a single can of paint on hand that can be used for touchups when all the walls in the house match that one color. Unfortunately, painting your walls all in one color does make it difficult to give personality to the individual rooms, and the predictability can start to seem dull. Painting your interior a variety of colors will allow you to decorate with different moods and themes in each room. On the other hand, if all the rooms are very bright and different colors that are unrelated to each other, the house can start to seem disjointed and inconsistent. There is no right or wrong answer — it's up to you.