Different Kinds of Elk Mounts
Elk trophies are the prized fulfillment of a successful hunt. The mounting of game trophies is generally completed by a taxidermist and sometimes by a hobbiest. In the early days of taxidermy, animal hides were sewn and stuffed by taxidermists to form crude, often misshapen trophies. The art has evolved significantly with the use of premade dense-foam and plastic forms created in a variety of lifelike poses for every kind of game animal. The natural hide is stripped from the animal and stretched over the form. The natural antlers and glass eyes are added to finish the form. Details are added with paint and sculpting compounds.
Shoulder Mount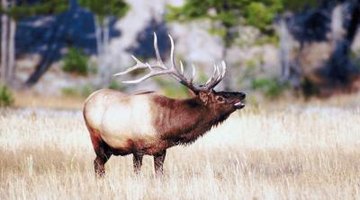 A common mount is the shoulder mount, which includes the head, neck and shoulders. Shoulder mounts provide a wide range of choices for head positions because of the extended musculature and skeletal form. Head positions include straight forward and upright, 90-degree turned, back-tilt bugling, full sneak with the head jutted forward and down, and a partial sneak position. Different taxidermy companies offer different forms, so it benefits the hunter to look around for the most suitable form. Each head position also is going to need a specific and unique antler clearance.
Neck Mount
Neck mounts include only the head and neck. They are more economical and take up less room than a shoulder mount. There are significant limitations on the head positioning of a neck mount due to the lack of extended musculature. The head position may be tilted slightly, upright, or in the forward jut of a full or partial sneak.
Full Body
Full-body elk mounts are available standing, running or walking, with various head and neck positions including the upward bugling position. You can order the head with a left or right turn or centered. The completed mount will be set on a base and embellished with surrounding material representative of the natural habitat of elk. This is the highest-priced form available.
Display
Shoulder mounts may be displayed on a wall panel of wood or mounted on a pedestal base. Pedestal bases provide a variety of options for displaying your trophy among natural habitat materials that have been artistically arranged around the elk. Neck mounts are primarily mounted on the wall. Full-body mounts are mounted on a floor base of some sort and may include rocks or mounds upon which the elk is posed. Organizations such as the National Taxidermists Association, along with local taxidermy associations and clubs, hold annual competitions to promote artistry and excellence in the industry.
References
Resources
Writer Bio
Jude Barton has been writing about art, parenting, law and do-it-yourself projects since 2005. She holds a Bachelor of Fine Arts from Metropolitan State College of Denver and a paralegal certificate from Denver Paralegal Institute.
Photo Credits
Jupiterimages/Photos.com/Getty Images
More Articles