Can You Use Faux Brick for a Kitchen Floor?
The look of a brick floor adds charm to a kitchen. You can use a few techniques to accomplish this look in your own kitchen. Real brick, and even brick veneer paneling, is a porous material that is not ideal for kitchen flooring where water and food can easily fall on it, but you can replicate its look.
Faux Brick Vinyl Tile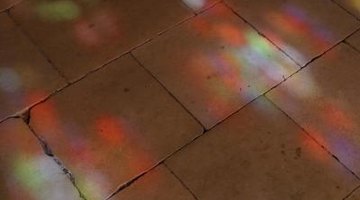 This is perhaps the easiest and least expensive option to get a faux brick look for your kitchen floor. Vinyl peel and stick tile can be purchased in this pattern and then installed directly over wood, linoleum or even a plywood subfloor. If you are on a tight budget, this is the best option. Look for tiles that show depth and dimension on the bricks to give it a more authentic look. When you are installing the tile, take your time to line up the grout lines on the pattern properly for a polished finished look.
Faux Finished Plywood
If you have a lot of time on your hands and a good deal of artistic talent, you can paint faux bricks right onto a plywood subfloor. The plywood needs to be sanded smooth to prep it properly. Choose a few shades of brick red ranging lighter to darker. Bricks are rarely a uniform color. You can use painter's tape to help you make your lines for your bricks and grout areas.
Brick Look Ceramic Tiles
You can purchase ceramic tiles in varying shades of red and brown to create a faux brick look on your floor. Use larger grout spacers to give the illusion of mortar between the bricks. Alternatively, you may also be able to find ceramic tiles with any actual brick pattern. Instead of laying the tiles on the square, cut a few into smaller pieces and stagger your rows for a more authentic brick look.
Faux Brick Veneer
Veneer paneling can be used to create a faux brick floor, but caution must be used. Namely, these panels have a raised, relief panel that will be bumpy underfoot. In addition, they are not going to be water resistant. If you do decide to use this type of wall paneling on the floor, glue it down firmly with a waterproof adhesive and place throw rugs underneath sinks and food prep areas to give it a little extra protection.
References
Writer Bio
Kate McFarlin is a licensed insurance agent with extensive experience in covering topics related to marketing, small business, personal finance and home improvement. She began her career as a Web designer and also specializes in audio/video mixing and design.
Photo Credits
Hemera Technologies/AbleStock.com/Getty Images
More Articles