What Kinds of Hooks Can You Use on Vinyl Siding?
Standard screw-style hooks that you would use for wood or masonry walls aren't recommended for vinyl siding, but there are a variety of hooks available that are specifically designed for use with vinyl. These hooks are typically categorized as flush-mount "S" hooks, "J" hooks or mounting clips. They install on your siding without making holes or dents or leaving rust stains.
Standard Hooks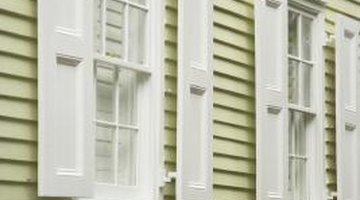 Standard hooks are typically designed with a screw end that is driven into the surface to secure them in place. These are often used in wood and masonry surfaces, but they aren't ideal for vinyl siding because they leave holes, which can allow water to pass through the vinyl and into the wood beneath. Water can sit behind the vinyl for long periods of time, and this can leak through to the interior walls of your home and result in mold and mildew growth. Installing standard hooks into your siding also may void the warranty. Adhesive hooks don't work simply because once the adhesive backing gets wet, it loses its grip and fails. Adhesives also can remain on the siding once the hook is removed. Solvents that might remove these can discolor your siding.
Flush-mount "S" Hooks
Flush-mount siding hooks typically consist of a flat stainless steel plate with a hooked end. There are holes in the plate where an "S" hook is slipped through to provide you with a hanger. To install, place the plate against the siding with the hooked end at the top, facing in toward the siding. Slip the hooked end under the seam of the siding, wiggling it back and forth, if necessary. You will feel it snap into place, and then it will lay flush against the wall. Insert an "S" hook into the holes at the desired height and you can hang wreaths, flower pots or other decorative elements up to a maximum weight of 10 pounds on the siding without damaging it or voiding the warranty.
Flush-mount "J" Hooks
These hooks are flat plates, similar to flush-mount "S" hooks, with a small hook at the top. "J" hooks also have a larger hooked end that makes the hook resemble a "J". Like a flush-mount "S" hook, these hangers slip under the seam of your vinyl siding to hang flat. The difference between the two is that there are no holes for inserting "S" hooks. Instead you hang the item on the "J" hook at the base of the plate. Because these are wider and sometimes thicker than "S" hooks, they are usually able to handle slightly heavier items -- up to 12 pounds. To remove, lift the hook up and out without damaging your siding.
Clip-On Hangers
If you're worried about scratching your siding with metal hangers, clip-on hangers are an alternative. These vinyl siding hooks are intended for hanging lightweight items that are less than 10 pounds, like lights or chimes. They may be made in a variety of shapes, but the all-purpose variety are typically small square-shaped hooks that clip under the seam as other siding hooks do and feature a small plastic hook at the bottom. Some types also have holes on either side of the hook so that you can insert small "S" hooks, as well for added support.
References
Writer Bio
Renee Miller began writing professionally in 2008, contributing to websites and the "Community Press" newspaper. She is co-founder of On Fiction Writing, a website for writers. Miller holds a diploma in social services from Clarke College in Belleville, Ontario.
Photo Credits
Jupiterimages/Photos.com/Getty Images
More Articles