Hanging a House Number Plaque on Vinyl Siding
The house number plaque gives your home a finished look while also making it easier for guests and service workers to locate you. While it is simple to nail a a house number plaque to a home with wood siding, you need more hardware if you are hanging one on vinyl siding. Choose vinyl siding hooks, which are made to hold items to your home without damaging the siding. They are easy to remove when you are done, and they distribute the weight of the item evenly on the siding.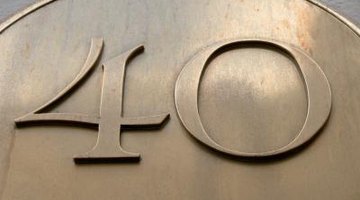 Step 01
Locate the top of the vinyl siding segment where you want to hang your plaque. Vinyl siding is hooked together, and there is a place where the gaskets fit together.
Step 11
Locate the top of your vinyl siding hook. The top is indicated by a lip that is made to slide between the vinyl siding segments.
Step 21
Push the top of the vinyl siding hook to the top of your chosen vinyl segment, sliding it between the gaskets, and then secure it by pushing it flat against the wall.
Step 31
Hang the enclosed S-hooks from the holes if you have a vinyl siding hook that is a strip with holes punched in it. At this point, you can hang the plaque from the S-hook. Other types of hooks have L-shaped bases and do not require hooks. Instead, you can simply hang the plaque from the bottom of the L.