24-inch Built-in Models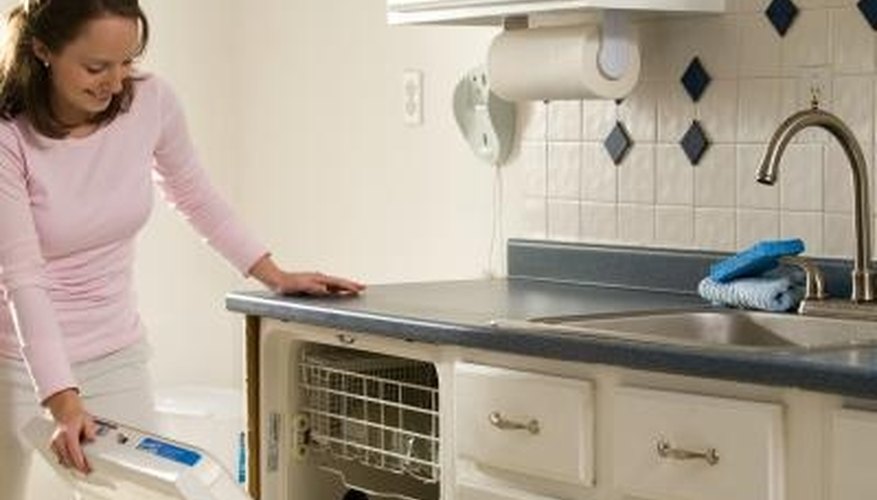 When considering where they'll place the dishwasher, they may wonder whether all dishwashers have the same measurements. Dishwashers vary in size.
The most common width for a built-in dishwasher is 24 inches. These models have heights ranging from 32 11/32 inches to 35 1/2 inches. Depths of these models start at 23 inches and climb to 29 inches.
18-inch Built-in Models
Those who want a space-saving, built-in dishwasher may consider a model that is 18 inches wide. These units typically stand 32 to 35 inches high. Their depths range from 22 1/2 inches to 24 inches.
Portable Dishwashers
If you don't have a cut-out spot in your cabinetry for a dishwasher, you might consider a portable appliance. The widths of these models varies from 17 5/8 inches to 24 7/8 inches. Their heights start at 35 7/8 inches and climb to 38 1/2 inches. Depths range from 26 3/16 inches to 30 inches.
Countertop Dishwashers
Those who live in an especially tight space may want a dishwasher they can hook up to their kitchen faucet, then put away when it's not in use. These models may be 21 10/16 to 22 1/2 inches wide. They stand about 17 inches high and measure 18 14/16 to 19 11/16 inches deep.