Cool Things to Do With a Broken Microwave Oven
Figuring out what to do with a broken microwave can really zap your patience, unless you find a creative use for it. While you're figuring out what to do, let your kids have at it. They can use the microwave door as a cool mirror to an alternate reality or, if the key pad still works, practice learning their numbers or entering launch codes for Popsicle stick missiles. Tired moms, you can pretend like you're using the microwave to defrost dinner while really waiting for the pizza delivery man.
Planter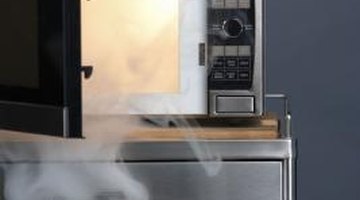 A microwave oven can be used both indoors and outdoors as a houseplant or flower planter. The juxtaposition between technology and nature might make an interesting conversation piece for your guests. Simply remove the machine parts from the microwave, except the keypad, fill it with soil and plant something beautiful. You can leave it indoors and grow flowers or plants that thrive year-round, or you can put the microwave outside and plant seasonal flowers that bloom once a year.
Mailbox
Another cool thing to do with a broken microwave is use it as a substitute for your mailbox. You'll need to unscrew the back of the microwave temporarily to remove the electric parts and the cord. Mount the mailbox on the stake in your yard and then paint it to suit your personality. Make sure to paint "U.S. Mail" somewhere on the microwave so the postman will know that you've got a microwave for a mailbox.
Puppet Show
If you have kids, use your broken microwave to help them expand their imagination. Remove the back of the microwave entirely. Use miniature decorations to set up the inside of the microwave like a theater stage. Get your kids to put on a puppet show. You can either replace the microwave door with a piece of fabric for a stage curtain, or you can leave the door and use it as a dramatic entryway to the stage.
Donate
Donate your broken microwave to charity. Its cool to do something to help others, and its much better for the environment than throwing it away. Perhaps the person who gets your old microwave will know how to repair it, or use the parts for scraps, or find another creative use for it that hadn't been considered by the microwave manufacturer, or by you.
Explore
Since your microwave is no longer working, use this opportunity to take it apart and see the mechanisms behind the mystery of cooking with radiation. It might be fun to remove all the parts and see if you know how to put them back together, or use the parts for scraps on other projects around the house.
References
Writer Bio
Oubria Tronshaw specializes in topics related to parenting and business. She received a Bachelor of Arts in creative writing from the Santa Fe University of Art and Design, and a Master of Fine Arts in creative writing from Chicago State University. She currently teaches English at Harper Community College in the Chicago area.
Photo Credits
Jupiterimages/Photos.com/Getty Images
More Articles