How to Display Beer Coasters
Beer coasters were originally thick paper cards that were used to protect open brews from insects. In the late 1800s, it was discovered that these were an excellent vehicle for advertising. Collecting beer coasters is a fun way to remember the many places you've enjoyed celebrations with friends and family, or visited throughout your world travels. If your collection jar or drawer is starting to overflow, then it is time to put your beer coasters on display for everyone to enjoy. There are many options for displaying them, many requiring a short supply list and a little bit of time. Just think of the enjoyment you will receive by having your mementos out on display.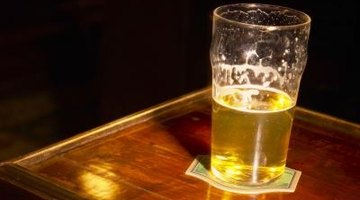 Find a room or section of the house where you are able to display your beer coasters. This can be simply a wall or a door, or it could be an entire room or even the garage. It will be most effective to display your coasters in an area of the house you frequently visit so you will be able to enjoy your decorations.

Affix magnets to the back of each coaster, and stick them to a refrigerator or a metal panel. This is a popular idea for those with an extra fridge in a garage or a basement. If the refrigerator isn't an option, purchase a thin piece of sheet metal, hang it on a wall and stick the magnetic coasters on the metal. This makes an inexpensive and easy decoration.

Place the coasters in frames. There are an infinite number of frame shapes and sizes, which can make an interesting art arrangement for a wall. You can use either picture frames or shadow boxes to place the coasters in, and then arrange the collection in a pattern on the wall.

Arrange your beer coasters in a photo album or scrapbook. This is a great way to display your coasters, while also keeping them safe and protected. Place the book of coasters where you and your guests can easily reach it, maximizing the enjoyment of your memories.
References
Tips
Search at bargain stores, consignment stores and wholesalers when buying frames for your coasters, as this will allow you to get more for your money.
Writer Bio
Amber Bartlett-DiNenna is a nationally syndicated writer who began writing professionally in 2007. She has been published in the "San Luis Obispo Tribune," "Sun Herald," "Sacramento Bee," "Veggie Head Magazine" and regularly contributes on DoOver.com and Wellness.com. She holds a bachelor's degree in social science, is a Certified Holistic Health Counselor and is completing a graduate degree in marriage and family therapy.
Photo Credits
Hemera Technologies/AbleStock.com/Getty Images
More Articles