Patchwork Throw Pillows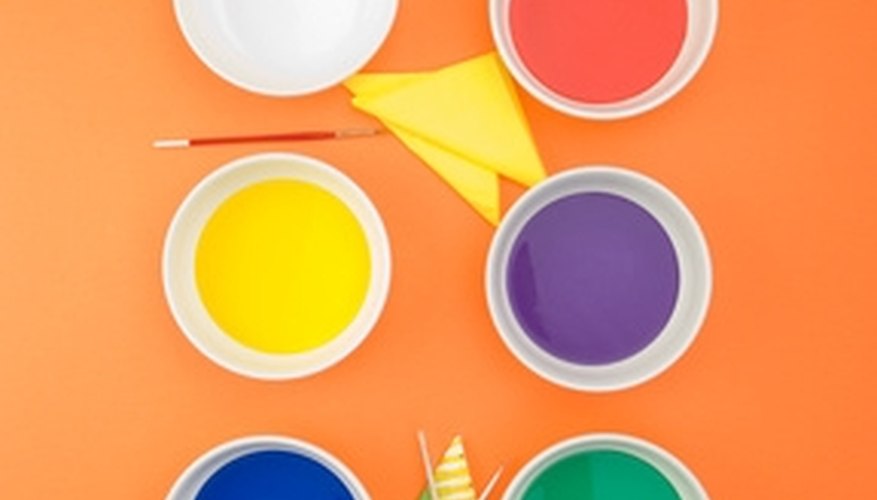 By working with your teen to complete DIY bedroom projects, you allow her to practice her creative skills and give her the opportunity to express her aesthetic vision. Help your teen to create a complete room transformation with an assortment of simple projects.
Create eclectic and uncommon accessories through the production of patchwork throw pillows that you and your teen can easily make together. Purchase an assortment of fabrics in colors that fit with her bedroom pallet. Cut the selected fabrics into squares and stitch them together. Back the quilted creation with a solid piece of fabric and stuff it with fiber fill to finish the creation.
Geometric Accent Wall
Trade boring paint for an uncommon finish through the creation of a geometric accent wall. Select several paint colors that compliment the bedroom décor. Using masking tape, create a geometric web on the wall's surface. Let your teen do the measuring to keep him involved in this project. Paint the resulting sections using the selected paint. After the paint has dried, carefully peel the tape off the wall. Upon doing so, you will find an intricate array of colorful geometric shapes that set the wall apart from all others.
Retro Beaded Curtain
While today's teens are too young to remember the trend, beaded curtains were once all the rage. Teens with a flair for style and a love of everything retro may enjoy adding one of these decorative elements to the entrance to their room. To craft one of these with your teen, purchase an assortment of large beads, sturdy fishing line and a 1-inch or 2-inch diameter wooden dowel that is as wide as the doorway. Working with your teen, measure the distance between the top of her doorway and the floor. Create strands of beads that equal this measurement. It is advisable to use large beads, as you would need an abundance of small beads to fill your long strands. Attach each completed strand to the dowel by tying it securely around the rod. Place the strands as far apart or as close together as you desire.
Once finished, tie another piece of fishing line to either end, making loops, or use pretty ribbons to make loops. Put two screws or two nails above the door, door-width apart and hang the dowel by the loops. Take care when hanging your bead curtain to ensure that your teen can still shut her door with the curtain in place.
Found-Objects Artwork
Craft a monochromatic conversation piece for your teen's room. In the weeks leading up to the undertaking of this project, ask your teen to start to save objects that he feels represent him. For example, if your teen is a guitar player, he may save a broken guitar string or pic. Likewise, if he loves to fish, you may gather fish hooks or lures or even plastic fish to include in his creation. After gathering an assortment of objects, purchase a large sheet of wood. Either you or your teen or both can glue the objects to the wood using hot glue. Purchase multi-surface spray paint in a color that matches your teen's decor, and use this enamel to spray his creation one color. Hang the finished product on your teen's wall.