Potted Plants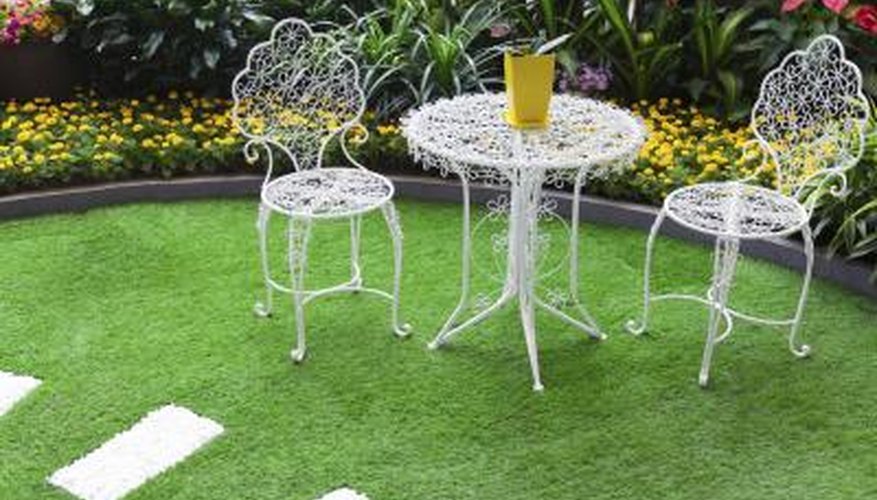 Patios with flair often have recycled or repurposed components that complement the natural surroundings and reflect the personalities of the owners. For example, an antique trunk becomes a coffee table; a wooden sailboat rudder, with the addition of legs, becomes a side table. Through the creative use of fabric, paint, potted plants and lighting, you can turn a "blah" cement patio rectangle into a relaxing outdoor oasis to enjoy with family and friends.
Leafy green potted plants -- the larger, the better -- instantly add color and life to an outdoor space. Plants can serve multiple purposes simultaneously; they attractively fill spaces and add fragrance, and some are edible. Potted plants can easily be repositioned to catch the sun or rain, or to make room for larger gatherings of guests.
Repainted Furniture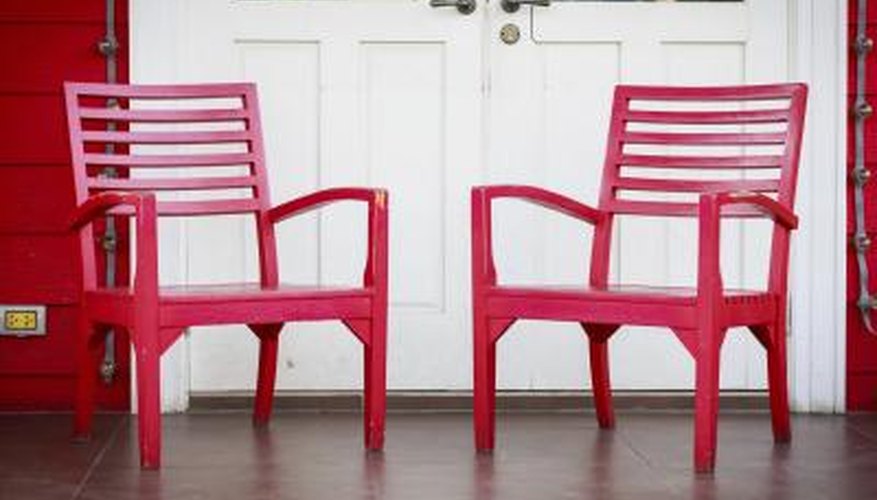 After you bring home interesting pieces from antique shops or flea markets, repaint and refresh the used wood or metal outdoor furniture. White paint or a single vivid color unifies a miscellaneous collection of seating and tables, and provides a neutral background for bright cushions in solid colors or patterns such as stripes, polka dots or oversized graphic florals. Spray a collection of folding chairs in a rainbow of colors to stylishly extend seating when you entertain.
Fabrics for the Outdoors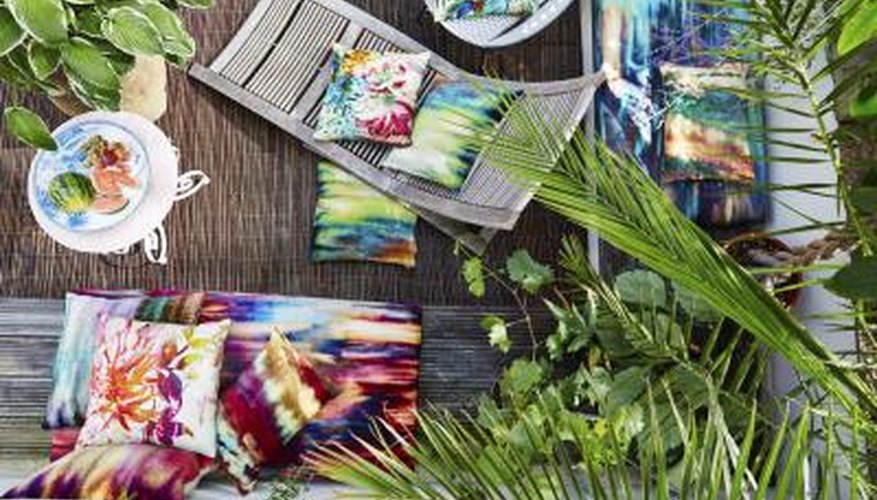 All-weather fabrics give you an inexpensive way to add fresh color and style to a plain patio. New cushions transform tired-looking outdoor furniture and add lounging comfort. Most all-weather fabrics resist mildew and fading. Along with umbrellas, slipcovers and upholstery, this fabric can be suspended over an outdoor area to provide informal shade for a table or a seating area.
The Right Lights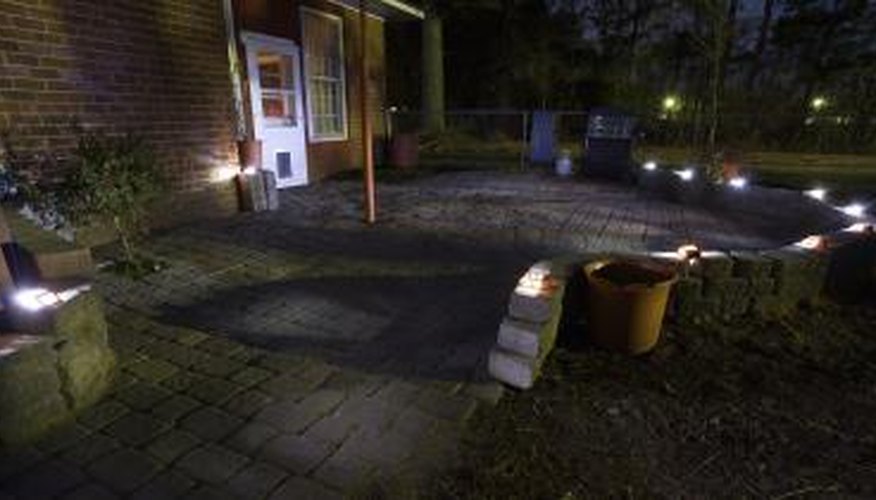 Outdoor lighting makes patio spaces inviting after dark. Solar lights or candles aglow in hurricane lamps add inexpensive style and atmosphere to entertainment spaces. Citronella candles serve the dual purpose of repelling insects and providing mellow light. Strings of colored lights or brightly colored paper lanterns brighten dark corners of the patio.
Fashionable Floors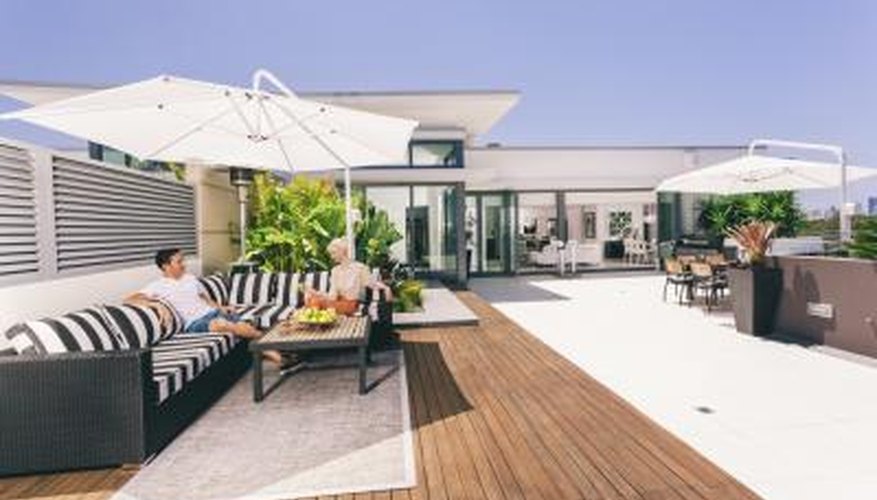 A typical rectangular cement patio floor can be improved with paint, an all-season rug or an organically shaped border. Cement should be cleaned and primed before painting. Allow each stage to dry thoroughly for a flawless finish. Two coats of paint and a final sealer coat ensure a durable surface. A patio floor area can be attractively extended with a border of inlaid bricks or flat stones, a strategy that also adds functional space. All-weather rugs in colors that coordinate with furniture cushions add color and softness to the patio seating area. Outdoor rugs of natural or synthetic fibers are relatively inexpensive, and available in a range of sizes and shapes.
Sylvan Sounds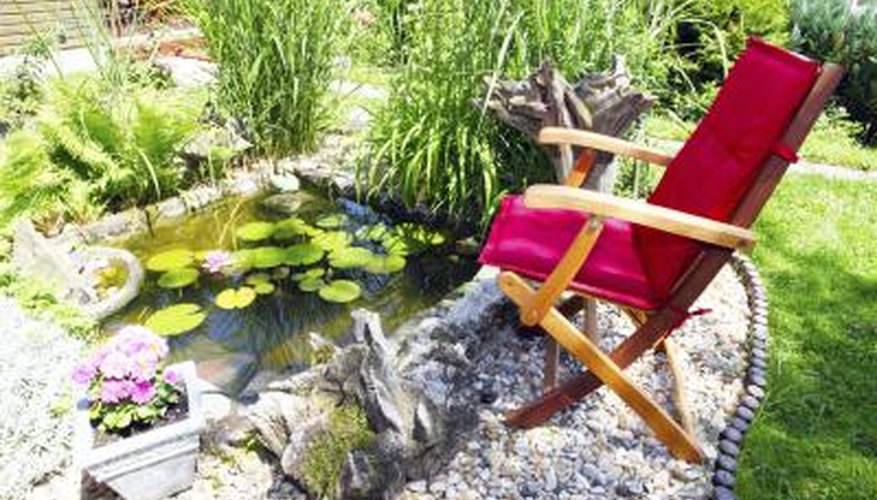 In addition to the sounds of birds, bees and breezes, discreetly placed speakers can provide soothing background music for relaxing outdoors. The sounds of nature can also be enhanced with the peaceful sound of bubbling water in a pond or table fountain.