Sanctuary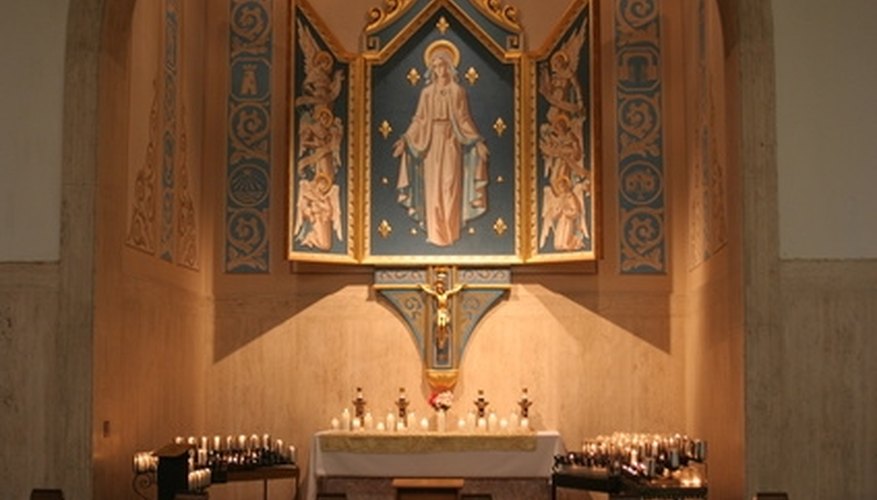 Regardless of when your church was built, creating a warm, welcoming environment can be vital when attracting new worshipers or holding on to the regulars. Decorating plays a large role in the impression your church makes. Each room serves a different purpose, so keep this in mind when embarking on a Baptist church makeover.
Your sanctuary is one of the most important spots in the church. If you are planning to redecorate the entire room, consider the style that your congregation worships in. Churches with a less-formal style may wish to use chairs in a circular formation instead of traditional pews. As the floor will likely endure heavy foot traffic, use a dark carpet color, such as blue or red, or use tile or wood. Paint the walls of the sanctuary a neutral color, such as white or pale gray. Light colors open up a room in addition to adding a feeling of purity, which is a desirable trait in a church. Consider visiting other churches in the area and make a list of the attributes you enjoy at each one so you can incorporate them into your own décor.
Children's Room
Children are likely an important part of your Baptist church. Decorate the children's room using size-appropriate furniture. Young ones are often attracted to bright colors, so incorporate splashes of color into the décor. Devote one corner of the room to reading. Place a plush carpet in the corner along with stuffed animals, such as the kinds found in the Noah's Ark Bible story. Use beanbag chairs and oversized pillows to create seating by the bookshelves. Paint a mural on one wall depicting a Bible story or church-related theme.
Common Area
The common area of a Baptist church, or place where congregants gather for fellowship after worship, can be a place to deviate from the constrictions of sanctuary decoration. Strive to create a homey feel in this space. You could go in a modern style by using comfortable chairs and couches with clean lines and solid colors with dark wood tables and silver lamps. Take artistic photographs of church events and frame them for wall decorations. If the modern style isn't for your congregation, pick a patterned theme such as floral or stripe for use on upholstered furniture and wall hangings.