Fence Design Tools
When creating your outside space, you may want to also add a fence for both privacy and aesthetics. But there's more to adding a fence then simply sticking the posts in the ground. You need to figure out how high you want your fence, where the fence sections need to go and where the best places are to add gate entrances. These fence design tools are for both do-it-yourselfers and professionals.
Fence Design Software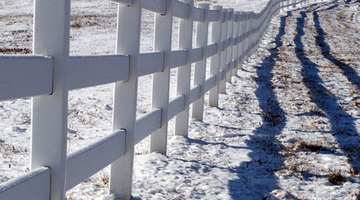 This tool is mainly for industry professionals, but this software uses a user interface (UI), which helps beginners and professionals learn the software program. This tool allows you to layout fences either by using foot or spacing measurements, or by using fence posts at certain intervals. The Fence Design Software program helps you layout different types of fencing material, including vinyl, chain link or wood. This tool uses 3D technology, which allows you to view different angles of your design. You can also create blueprints and fencing cut lists with this software. Product price depends on needs, and you must contact the company for a quote.
CADPro
The CADPro software tool allows you to create fence designs using materials like wood, vinyl or chain link. You can also use this tool with different fence or gate styles, including split rail, lattice, French gothic or staggered vertical. This program allows you to create blueprints, and convert your design project into a printable PDF file format. This software program uses a drag and drop feature, which allows you to add elements simply by selecting them and dragging them to correct spot on your design. Other features include the ability to upload a photo of your house on which you can create your designs, and the ability to email your design to others. As of 2010, this tool costs between $85 and $100.
Fence Designer
Fence Designer is a Home Depot fence design software program that is compatible with Windows XP. This tool allows you to design your fence and create shopping lists that include the Home Depot prices and bar codes for each item. This tool also features a UI, which allows you to figure out fence sizes and add gates where you need them. You can choose between 30 different fence and gate styles, and the program creates blueprints for you. As of 2010, this program costs $15
References
Resources
Writer Bio
Misty Faucheux became a freelance writer in 1998 and has been an editor since 2004. She has written for a variety of websites and blogs, specializing in topics ranging from digital photography to computer systems to digital media. Faucheux received a Bachelor of Arts in communications from Loyola University New Orleans.
Photo Credits
Fence and shadow of fence on snowy ground.. image by LiteWave from Fotolia.com
More Articles