Melamine Colors
Melamine is a kind of plastic-coated particle board or plywood used creating cabinets. Durability is one of the reasons people decide to use melamine. The material doesn't wear easily and comes in a variety of colors and appearances, which makes it practical for use in the kitchen. If you aren't satisfied with the available colors or faux-wood look of melamine, you can paint it.
Solid Colors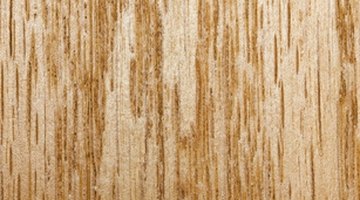 Most retailers have solid colors available to choose from in their stock. A solid color is a great choice if you plan on matching it to your personal decor. Retailers usually carry melamine in white, almond, gray, black, and beige. If a store doesn't have a specific solid color of melamine in stock, ask if they can order it for you.
Wood Grain
Instead of purchasing melamine in a solid color, select a color that looks like a specific type of wood. Wood grain creates a totally different appearance than solid color. Because each wood grain is designed to look like a real kind of wood, there are many colors and patterns that look quite different from each other. Some stores carry wood grain melamine that looks like maple, oak, ash, hickory, cherry and even birch.
Paint Colors
If a solid color or wood grain melamine aren't your style, you still have options available. You can personalize your room even more by choosing to paint your melamine. If you want to change the color later you can just paint it again instead of buying more melamine. Usually, hardware stores keep light colors of melamine paint in stock, like cream and pale blue. If you ask or look around you might be able to find a wider paints in colors such as navy and forest green.
References
Photo Credits
Oak Wood Grain Detail Close Up image by James Phelps from Fotolia.com
More Articles