Gooseneck Style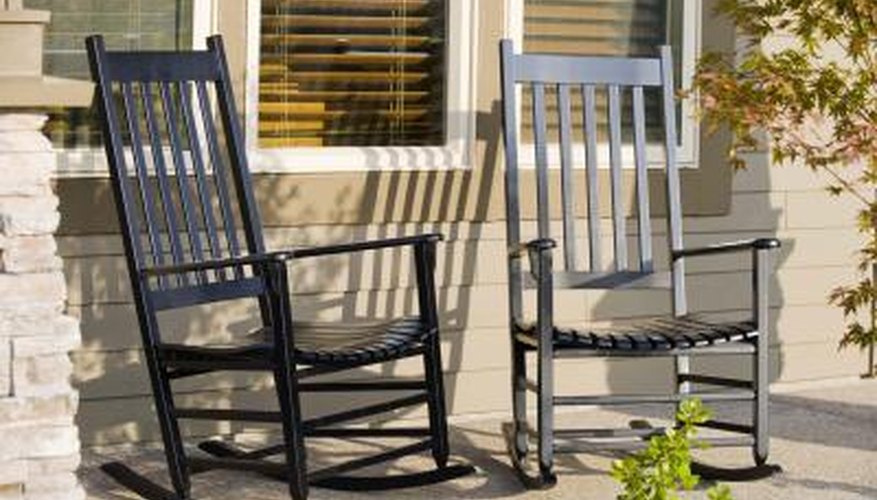 Although originating in England, Benjamin Franklin is credited for introducing the rocking chair to America, where it still enjoys wide popularity. From sitting outside on the porch to rocking a crying baby to sleep, rocking chairs in any shape or form conjure up images of tradition and comfort.
Gooseneck rocking chairs were first made in the 18th century. This style is characterized by unique wood carvings of geese necks. The arms of this traditional chair are designed to resemble the neck and head of a goose, including the eyes. Although some simply had gooseneck handles, many designs called for intricate moldings of geese necks around the trimming.
Bentwood Style
The Bentwood rocking chair style is distinguishable by its flowing style invented by German inventor Michael Thonet in the mid-1800s. Thonet developed and patented a process by which wood is steamed and bent into graceful handles and rocking legs that seem to flow into one another seamlessly. This chair is light and practical, yet elegant.
Amish Style
The Amish chair is named for the traditional American sect that first designed it. This chair is characterized by comfortable, contoured seats and backs. The builder dries small slabs of solid hickory or oak wood from young saplings, steams them into curved shapes that support the back. Authentic Amish chairs are signed by their makers.
Kennedy Style
Kennedy rocking chairs are styled after the John F. Kennedy's favorite seat that he bought from P & P Chair Company in 1955. This rocking chair helped to soothe lingering pain from a previous war injury, and it appears in many pictures with him. His chair became so popular that P & P Chair Company started producing them in mass. This chair is characterized by its simple, steam-formed design with a back cushion.
Adirondack
The artistic concept behind the rustic Adirondack rocking chair was first introduced to the Appalachian region of America from England in the 1830s. This chair is characterized by pieces of rustic sticks and twigs either nailed or lashed together to form a rocking chair. The 1980s saw a reinterpretation of the style using larger, flat pieces of wood.
Morris
The Morris rocking chair style is identifiable by its low-lying, upholstered seat and solid oak frame. Most rocking chairs do not have padding or upholstering, which makes the Morris so unique. These chairs are upholstered in various materials, including leather or fabric.