Well, it's _finally_ summer! I don't know about you, but all I want to do is open up the windows and doors, sit on my patio and enjoy the sunshine. But before I sit and sip a glass of wine, there is some work to be done to create the perfect summer ambiance — inside **and** outside! Some people may be lucky enough to actually own a beach house, but the rest of us can create that breezy beach house feeling with just a few simple changes to our decor.


**Shells & Summer Decor Ideas**.
Nothing says summer like a great collection of shells, so put away your winter and spring decor and bring out shells, coral and any other sea-inspired items you may have. Display them on your mantle and coffee table in hurricane candleholders or lanterns.

You can even use them to accessorize your bookcases and the buffet in your dining room. Look through your coffee table book collection and display any that says summer, sea or shells.

Take some time to browse through your favorite book for inspiration. At the moment, mine is ["Room to Inspire by the Sea" by Annie Kelly](http://wwwroomatthebeachmalibucom/collections/books/products/rooms-to-inspire-by-the-sea-annie-kelly).


I always have an inspirational Buddha and crosses in my home. For summer, I add shells to the base or bring out crosses with shells and driftwood on them.

It feels so good to have spiritual messages and images throughout your home! I also place some outside to keep the good spirit going.
**The Outdoors Is In**.
I bring outdoor tables inside to act as bar tables and place hurricane candleholders everywhere. Utilize candles of different heights to create a visually interesting space and really make the house glow.

I love to decorate this way, especially when we're getting ready for summer entertaining.
For outdoor entertaining, I bring out my dining room chairs and place them around my patio table. I fill vases with roses from the garden and even bring out lamps when I know there is no rain forecasted to give the outdoor space that true living room feel.

It's amazing how daring it feels to have indoor furniture outside! No outdoor room would be complete without a [rug](https://society6com/rugs?utm_source=SFGHG&utm_medium=referral&utm_campaign=8775) and beach-inspired pillows. Look for pillows that have seashell motifs or fun beach sayings and use them both outdoors and indoors to create seamless summer living.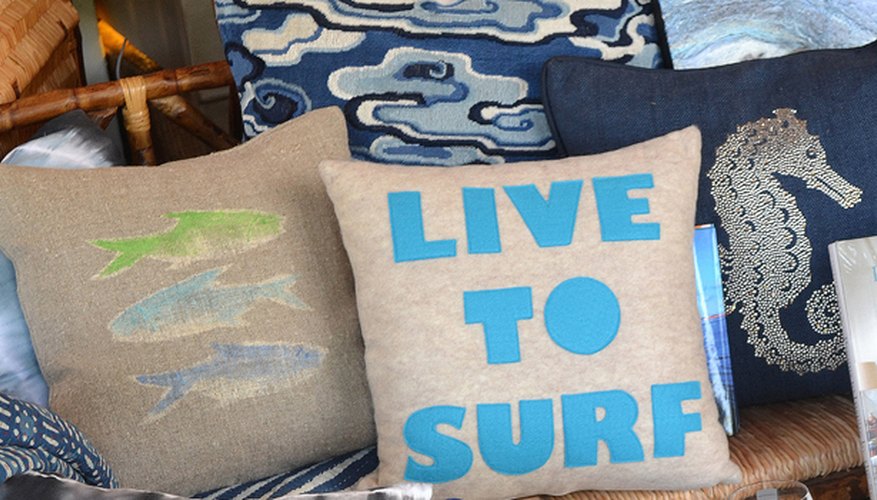 I have to admit, I'm a true dish addict and really love the addition of shell dinner plates to my table. Many home stores (mine included) have great summer dinner plates, serving bowls and glasses.

Complete a summer-ready table with a few sea-inspired napkin rings and napkins.
Accent an outdoor table by hanging oversized lanterns. Incorporate trendy Moroccan-style accents by choosing lanterns that are either white or blue so they look summer-appropriate.

Pull it all together with striped geometric outdoor rug from any local home decor store and you have a gorgeous space for outdoor dining that you can enjoy all summer.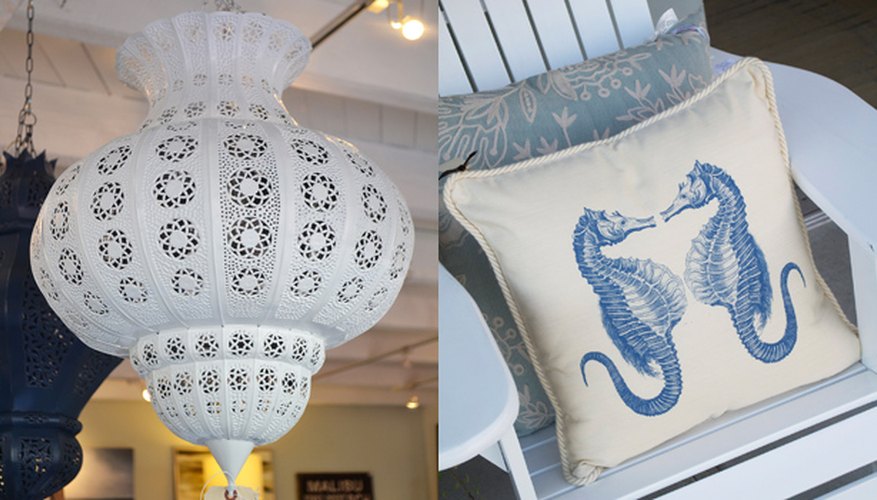 I could go on… but my patio and glass of wine are calling!.
Happy summer.
Xo, Elizabeth.
_Photo credits: Elizabeth Lamont_.