Whirlpool Side-by-Side Refrigerator Door Removal
Side-by-side refrigerators are popular with homeowners because they offer more freezer storage space than traditional refrigerators that have the freezer on top of the refrigerated compartment. Whirlpool side-by-side refrigerators have removable doors to make the refrigerator smaller and thus easier to move into or out of your home. In addition, if you are disposing of your refrigerator, you should remove the doors to prevent children from becoming trapped inside.
Preparation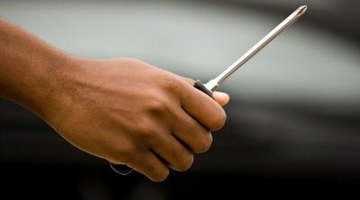 Before you can remove the doors from your Whirlpool refrigerator, you will need to first unplug the power cord and open both doors. Take out any food or drink items sitting on the door racks. Remove the base grille on the bottom of the refrigerator by gripping both ends of the grille at the top, pressing down with your thumbs or finger on the locking latches and pulling up on the grille.
Some Whirlpool side-by-side refrigerators have a water and ice dispenser built into the door. If you have one of these models and your refrigerator is hooked up to a water supply, disconnect the water tube behind the grille on the left side of the refrigerator.
Removal
Whirlpool side-by-side refrigerator doors rest on a connecting stem attached to the bottom hinges. Because of this, you only have to remove the top hinge on each door to remove the doors. To remove the hinge from the first door, remove the holding screw on the hinge cover and lift the cover off the hinge. The hinge consists of four screws, a wiring plug and two ground wires. Remove the screws from the hinge and disconnect the wiring plug and the ground wires by pulling them out. Lift the door straight up to remove it from the bottom hinge, and place it to the side. When you are finished with the first door, repeat the process to remove the second door.
Additional Tip
If you are moving your refrigerator, you may also need to remove the bottom hinges. To do this, unscrew the holding screw on one of the hinge covers and remove the hinge cover. Unlike the top hinges, the bottom hinges do not have any electric wires. Remove the three screws from the bottom hinge and pull the hinge off the refrigerator. Repeat the process with the other bottom hinge.
References
"Whirlpool Side By Side Refrigerator Use & Care Guide;" Whirlpool Corporation; 2000
Resources
Writer Bio
William Pullman is a freelance writer from New Jersey. He has written for a variety of online and offline media publications, including "The Daily Journal," "Ocular Surgery News," "Endocrine Today," radio, blogs and other various Internet platforms. Pullman holds a Master of Arts degree in Writing from Rowan University.
Photo Credits
Jupiterimages/Photos.com/Getty Images
More Articles