How to Wash Panty Hose
Add a pair of panty hose when you're wearing a skirt or a dress, and you'll instantly look polished and put-together. Get the most out of your hose by carefully hand-washing them using a mild, bleach-free detergent. Shampoo and body wash also work.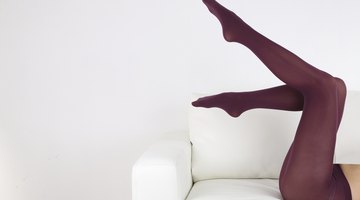 Just remember to remove anything that might snag your panty hose before you start washing them, like dangling bracelets, rings or torn fingernails.
Washing and Drying
Add detergent to a sink of warm water and swirl it around to create foamy suds. Immerse the hose and gently work the detergent through them before rinsing. Panty hose can also be cleaned in the washing machine on the gentle cycle, but put them in a gauze bag first, or they may become stretched and tangled. After washing, lay the hose on a clean towel and roll it up, pressing down as you go to absorb water. Unroll the towel and leave the hose flat to dry.
References
Resources
Writer Bio
Hallie Engel is a food and lifestyle writer whose work has appeared in several international publications. She served as a restaurant critic for "Time Out Abu Dhabi" and "Time Out Amsterdam" and has also written about food culture in the United Arab Emirates for "M Magazine." She holds a bachelor's degree in communications and film studies from University of Amsterdam.
Photo Credits
belchonock/iStock/Getty Images
belchonock/iStock/Getty Images
More Articles