Washing Machine Drain Hose Backflow Prevention
Your washing machine's drain hose pours out the water that gathers up in the machine usually throughout the rinse and spin cycles. Depending on its position, you might get a backlog of water within the hose that makes the machine put more effort in getting the water out. This phenomenon, known as backflow, occurs when you position your hose unnecessarily high or when you position it so that water would climb several times through the hose before reaching the tip.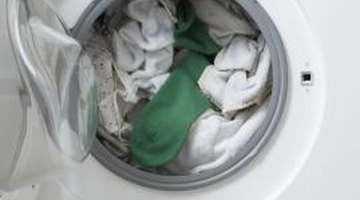 Grab the washing machine's hose and place it in a lower location. Place it on a "rinse and spin" program if you have one in order to test the hose.

Straighten the hose as much as possible to allow a smooth path for the water.

Move your washing machine away from the water's destination as far as possible. Do not move the machine at such a point where the hose may fall from the water drain.
Writer Bio
Mikhail Polenin has been working with computers since 1997. His experience also expands to astrophysics, masonry, electricity and general appliance repair. He's written about various different subjects regarding astrophysics and electrical circuits for various online publications. Polenin attended the New World School of the Arts and the University of Florida.
Photo Credits
Martin Poole/Lifesize/Getty Images
More Articles