How to Replace the Light Bulb in a Viking Oven
The light bulb in a Viking oven has a glass dome that covers it. If the cover is not removed properly, it could break. The bulb has two prongs that plug into the receptacle in the oven. Contact an appliance service company to purchase the correct bulb for your oven.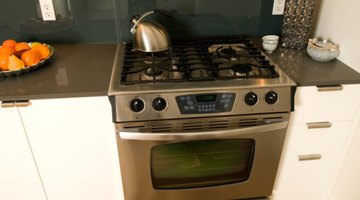 It does not require any tools to remove the glass cover and replace the bulb.
Unplug the electrical cord of the oven from the outlet in the wall. This is a safety precaution that should be taken whenever any work is being done on an electrical appliance.

Open the oven door and locate the glass dome under which the bulb is connected. Remove the oven racks to make it easier to access the bulb.

Push the glass dome to one side while pulling down, and remove the dome.

Unplug the bulb from the receptacle. The bulb has two prongs that plug into the receptacle in the oven.

Install the new bulb by plugging it into the receptacle. Replace the glass dome by inserting one side, then twist the other side in an upward motion. Plug the electrical cord into the outlet.
Writer Bio
Damon Koch has years of writing experience ranging from software manuals to song lyrics. His writing has appeared in software manuals for Human Arc and on the CDs "Small Craft Advisory" and "Impersonating Jesus." He also has worked in building maintenance since 2004. He has attended Lorain County Community College as well as Cleveland State University.
Photo Credits
Jupiterimages/Photos.com/Getty Images
Jupiterimages/Photos.com/Getty Images
More Articles