How do I Remove a Motion Sensor from an Ademco Alarm?
An Ademco alarm panel provides a variety of options to customize your home security system. As your needs change, you can add or remove sensors and peripherals without having to change the entire system.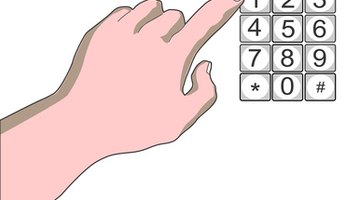 You can also make short-term changes to the way the system operates to compensate for temporary changes to your security needs. Whether the change you want to make is temporary or permanent, the steps are easy and require few, if any, tools.
Temporary Removal
Enter the master security code followed by the "Bypass" button on your Ademco keypad.

Enter the two-digit zone number of the motion detector you wish to remove from the system.

Wait for the "Ready to Arm" message and arm the system normally.

Repeat steps 1 and 2 to restore the bypassed zone to normal operation.
Permanent Removal
Enter programming mode by pressing 4, 1, 1, 2, 8, 0, 0 on the keypad.

Press *, 5, 6 on the keypad to enter the "zone" programming menu. Press 0 then * to skip the confirmation menu. Press the * key again to skip the summary screen. Enter the two-digit zone number of the sensor that is being removed from the system.

Enter 0, 0 to set the zone type to "not used." Press *, 9, 9 to exit programming mode.

Use a screwdriver to remove the motion detector from its mounting location and the wires from the zone terminals on the control panel, if desired.

Test the alarm system. Check the programming if any problems are found.

Tip

Bypassing and programming procedures vary from one Ademco model to the next. Consult the user's and programming manual for your model.

Warning

Bypassing or removing alarm sensors can create vulnerabilities in your security coverage.
References
Resources
Writer Bio
David Young has written for the website for the Save Darfur Coalition and is currently writing articles for various other websites. Young holds a Bachelor of Arts in philosophy from Western Carolina University.
Photo Credits
hand punching at number key pad image by patrimonio designs from Fotolia.com
hand punching at number key pad image by patrimonio designs from Fotolia.com
More Articles