What is the Cost to Run a 1350-Watt Electric Heater?
The cost of running an electric heater is determined by its wattage and electricity rates. Users can expect to pay between $3 per day in the most expensive United States states to around 90 cents per day in cheaper states.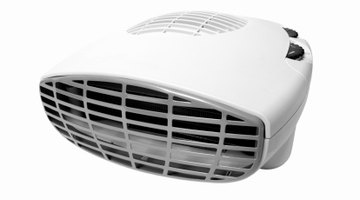 Wattage
Some heaters have a fixed wattage while others allow the user to vary the wattage to produce more or less heat. Higher-wattage heaters have the potential to produce more heat but as the wattage increases, the heater consumes more power, increasing the running costs.
Heater Type
A heater controlled by a thermostat is more economical to run than a heater permanently turned on and, unlike appliances using transformers, it ceases using electricity until the temperature drops and the thermostat switches on the heater. Oil-filled and storage heaters may reduce costs by retaining heat longer than fan or convection heaters.
The Running Cost
As of September 2010, the average price of a kilowatt of electricity in the United States varied from almost 28 cents in Hawaii to just under 8 cents in Washington state. Running a 1,350-watt electric heater at these prices costs between 37.8 cents and 10.7 cents per hour.
References
Writer Bio
David Robinson has written professionally since 2000. He is a Fellow of the Royal Geographical Society and the Royal Meteorological Society. He has written for the "Telegraph" and "Guardian" newspapers in the U.K., government publications, websites, magazines and school textbooks. He holds an honors Bachelor of Arts in geography and education and a teaching certificate from Durham University, England.
Photo Credits
George Doyle/Stockbyte/Getty Images
George Doyle/Stockbyte/Getty Images
More Articles