How to Convert an Open Foyer Into a Room
Consider your foyer next time you are squeezed for additional living space. Let your imagination unlock your foyer's potential to take advantage of its central and separate location from other rooms. Next time the family room is occupied, escape to the foyer with a good book on a cozy settee that whispers "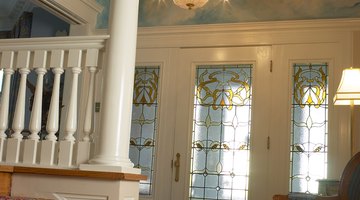 stay a while."
A Purposeful Room
A foyer that is converted into useful space takes advantage of every wall with useful furnishings, such as a bookcase or upright secretary desk. Seating in a foyer should be all about comfort and style. Consider an open seating plan in the middle of a large foyer for intimate gatherings and include a small-scaled round table as the center point. Remain true to the home's overall style and color schemes in the foyer for good visual flow.
Privacy Matters
Give your foyer extra privacy and light control by covering glass inserts on front doors and side lights with operable shades or blinds. Sheered casement panels also provide filtered light and will obscure inside views if they have extra fullness and are fabricated from an opaque fabric, such as cotton batiste. For inside privacy, enclose door openings leading to a formal dining room, family room or hallway with solid doors or a set of French doors with glass inserts that can be privatized with opaque glass or sheer panels. Add a decorative wood insert or a transom in extra-tall openings to fill in the void above standard-height doors.
Create a Diversion
Unless your foyer is completely separated, it may be a necessary part of daily traffic flow, especially when family members need access to the front door or their individual bedrooms. Plan ahead by diverting the traffic flow around your foyer activities with the use of carpet runners or a visual divider, such as a decorative screen. Tall plants and vases are also useful to re-route paths within the foyer. Be considerate of other family members when planning for a foyer to be used as another room within your home.
Down to Business
Although foyers are at the main entrance to a home, often a house layout encourages regular use of a back or side door entrance that is accessed from the driveway or garage and leads to the family room or kitchen. This aids in the success of a dedicated foyer conversion, such as an office to accommodate a growing home-based business. Warm the space with a generous area rug that anchors the desk facing toward the front door and place two small-scaled upholstered visitor's chairs angled toward the front of the desk to soften the space.
References
Resources
Writer Bio
As an allied ASID member, D'Ann Kross co-owned and managed an Interior design business serving the greater New Orleans area for 20 years, and has been the lead designer for a major home furnishings franchise. She has published several articles as a contributing editor for "Gulf Coast Woman Magazine."
Photo Credits
Hemera Technologies/AbleStock.com/Getty Images
Hemera Technologies/AbleStock.com/Getty Images
More Articles