How to Troubleshoot a GE Spacemaker Microwave Oven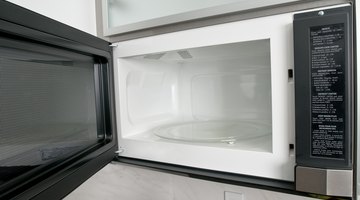 Many problems with GE Spacemaker microwave ovens can be troubleshot. Problems are often related to the oven not operating and to error messages, which include beeps. Many things that seem abnormal with GE Spacemaker microwave ovens are actually quite normal. For example, moisture appearing on the oven door and walls and appearing between oven door panels is normal, as is steam escaping. Regular maintenance such as replacing the charcoal filter helps.
Things You Will Need
Screwdriver
Replacement filter
Replace the charcoal filter if your model isn't vented to the outdoors and you notice excessive smoke and odors when the GE Spacemaker microwave oven is venting. Disconnect the power, and remove the old filter behind the grille. Slide the grille to the left after removing the screws. Slide the old filter toward the front, and pull it out. Slide the new filter in. It should rest on two side support tabs and in front of the rear tab. Replace the grille.

Close the door if the oven won't start. Also check if the plug is fully inserted into the wall outlet.

Enter a valid time of day if you hear an unusual low-tone beep. It is possible you have tried to start the reminder without a valid time of day. Other possibilities include trying to start the Auto Nite Light without a valid on and off time.

Wait for steam to be sensed and for the time to count down on the display before you open the door if you get a "Sensor Error" message on the display. You can use "Time Cook" to heat for more time.
Writer Bio
Patrick Nelson has been a professional writer since 1992. He was editor and publisher of the music industry trade publication "Producer Report" and has written for a number of technology blogs. Nelson studied design at Hornsey Art School.
More Articles