How to Protect the Floor Under Beverage Fridges
Beverages fridges are staples of dorm rooms, apartments and bars across the country. While not big enough to accommodate much in the way of food, the mini-fridges are very useful for storing beverages to keep them cold during parties, sporting events and other functions.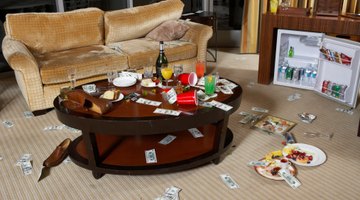 The floor underneath a beverage fridge can undergo a lot of wear and tear thanks to the weight of the fridge coupled with moisture from both the fridge itself and any beverage spills. Protecting the floor under a beverage fridge should be a priority to keep your floor looking its best.
Place a protective mat underneath the beverage fridge. This will help protect the floor from both moisture damage and scraping damage if the fridge slides while it is being opened and closed.

Hold the frame of the fridge when opening or closing the door to further eliminate a risk of sliding.

Wipe up spills with a towel immediately after they occur. Liquid can seep underneath a mat easily and will damage the floor if not wiped up. Pull the fridge out, lift up the mat and thoroughly dry the floor and the mat before placing the fridge.
References
Writer Bio
Michael Davidson started writing screenplays in 2003 and has had a screenplay professionally produced. He has also studied martial arts since 1990 and has worked as a licensed security specialist. Davidson has written articles for various websites. He is a graduate of Michigan State University and holds a Bachelor of Arts in advertising.
Photo Credits
Chris Clinton/Digital Vision/Getty Images
Chris Clinton/Digital Vision/Getty Images
More Articles