How to Display a Fishing Rod on a Wall
Old fishing rods and reels add to a home's warmth and decor, particularly log cabins or mountain retreats. How you display your rods is a matter of personal taste and style. Options for hanging include racks, direct to the wall, in cases or shadow-box frames, or leaning. They say the "devil is in the details"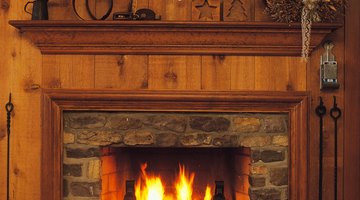 when decorating, and that is true with fishing gear displays. Accent the rods with flies, lures used to "land the big one" or a small engraved plaque indicating the history of the rod.
Use a rod rack to display multiple rods in the same place. The racks mount with standard brackets and screws and display the rods vertically or horizontally. Consider placing the rods in opposite directions, that is reel to tip of rod and the next going the opposite, if displaying the rods horizontally.

Remove the line and any hooks or barbs from the rods to ensure no one gets snagged by accident.

Hang the rods using the "rule of thirds". The rule of thirds is used in museums and for art and photo displays. Section the wall into thirds and hang the rod within the second third of the wall as this is the natural point of view for the majority of the population.

Accent the rods with a set of flies carefully placed along the rack, or if you have the rod put into a shadow box, place a few flies in as well. For conversation starters, place flies that hold sentimental value to you or remind you of your favorite day on the water.

Lean rods in a corner of a log cabin. This does not take up much floor space and gives the corners a warmer and rounder feel. It gives an outdoorsy touch to the room and adds character.

Place the rod up against a mantle above a fireplace. Push it up to the wall over the mantle and make it a centerpiece for the fireplace. Like corner placement, it gives an added warmth to a home.

Dust and polish the rods routinely to keep them shiny and polished, not old and dusty looking. Remember, rustic good, dust bad.
Things You Will Need
Screwdriver
Brackets or rack
Dusting cloth and dusting polish
References
Writer Bio
A former Alaskan of 20 years, Eric Cedric now resides in California. He's published in "Outside" and "Backpacker" and has written a book on life in small-town Alaska, "North by Southeast." Cedric was a professional mountain guide and backcountry expedition leader for 18 years. He worked in Russia, Iceland, Greece, Turkey and Belize. Cedric attended Syracuse University and is a private pilot.
Photo Credits
Comstock/Comstock/Getty Images
Comstock/Comstock/Getty Images
More Articles