How to Hang Without Putting a Hole in Vinyl Siding
Even one hole in the vinyl siding on your house can cause problems. Besides being an eyesore, it will allow moisture to enter in underneath the siding. A hole will expose the wood or other material beneath to be exposed to the elements.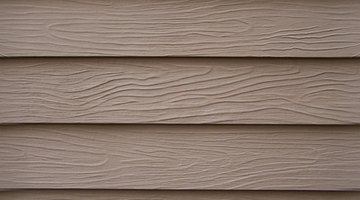 It can also provide an entrance for wasps, bees and other pesky insects to take up residence. Drilling holes in your siding can even void the warranty. That's why if you want to hang a decoration or other item on your house, it's best to avoid making holes. There is an inexpensive product you can use instead.
Buy some sliding hooks at your local hardware or home supply store. These are usually made of a sturdy, stainless steel material. They are thin and lightweight.

Read the manufacturer's directions and warnings on the package. Sliding hooks are easy to install.

Hold the siding hook so the your forefinger is across the open hook part. Place your thumb so it's vertical on the front of the hook.

Hold the metal hook in front of the place you want to hang it. Hold it so the flat back faces the vinyl siding. Raise the hook up and slide the top underneath the siding on the lip; snap it into place.

Remove the metal hook by rotating it towards you and pulling it free from the siding. Siding hooks can be reused over and over again.
Warning
Follow the weight limit on the package. If you try to hang more weight on the hooks than is allowed, you can bend the hook or damage the siding.
References
Writer Bio
Kayar Sprang has been a professional freelance writer and researcher since 1999. She has had articles published by clients like Kraft Foods, "Woman's Day" magazine and Mom Junction. Sprang specializes in subjects she has expertise in, including gardening and home improvement. She lives on and maintains a multi-acre farm.
Photo Credits
house siding 3 image by Psycience from Fotolia.com
house siding 3 image by Psycience from Fotolia.com
More Articles