How Do Roman Shades Work?
Roman shades are cloth shades that hang with neat pleats when pulled up, and cover a window completely when dropped down. They offer a clean, neat, upscale alternative to curtains, blinds or standard shades. Roman shades come in many shapes, colors and sizes and add flair to a room.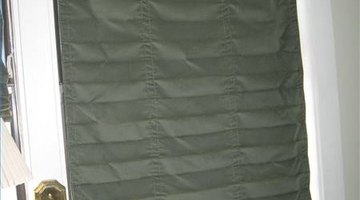 What is a Roman Shade?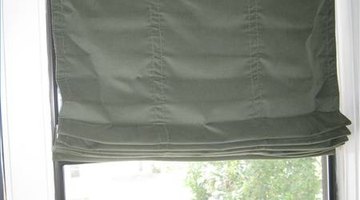 Roman shades can make any room feel as though it has a custom touch. They can be purchased at many large department or home-improvement stores, may be custom ordered or may be custom made.
How do Roman Shades Work?
Roman shades are pulled up or let down using a rope or string that has been threaded through small plastic rings that are sewn onto the back of the shade fabric at intervals. This creates pleats when the shade is pulled up. On a classic Roman shade, the cord is tied to the bottom ring, then threaded up through the remaining rings, to a pulley system that is attached to a wood or plastic rail at the top of the shade. For a reverse or top-down Roman shade, the threading process is reversed. A Roman shade is raised by pulling on the rope or string and securing it to an anchor installed on the window frame or wall. To lower the shade, simply release the rope or string and the shade will drop.
Why Choose Roman Shades?
Roman shades are a simple yet tasteful alternative to blinds or standard shades. In most cases, a Roman shade will provide better light blockage than blinds or standard shades, making them particularly attractive to light-sensitive people. In addition, Roman shades offer better insulation than blinds. Roman shades may be installed inside a window frame and accented with a valance or curtains. If Roman shades are installed over a window frame, they should stand as the only covering. Roman shades are easy to install, durable and attractive.
Writer Bio
J.D. Chi is a professional journalist who has covered sports for more than 20 years at newspapers all over the United States. She has covered major golf tournaments and the NFL as well as travel and health topics. Chi received her Bachelor of Arts in professional writing from Carnegie Mellon University and is working toward a master's degree in journalism.
More Articles