What Does the Sleep Button on an Alarm Clock Do?
The sleep button on a clock radio turns on the radio for a set amount of time, usually one hour or less. It is commonly used by people who prefer to go to sleep to music.
Features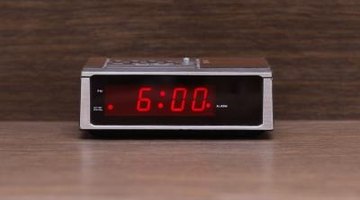 Other common features on a clock radio include an alarm, sometimes with the option to wake to the radio, and a snooze button, which causes the alarm to go off at set intervals, often nine minutes, until turned off.
Benefits
Clock radios with sleep functions allow the user to create white noise by setting the radio to static, or to a talk radio or music station. This is a useful function for people who have trouble getting to sleep without background noise.
Warning
Always follow all safety guidelines listed in the user manual for your clock radio to minimize risk of electric shock or other injury.
References
Writer Bio
Denise Howard has been writing since 2004, specializing in home and garden, travel, music and education. A private music instructor and professional accompanist, Howard holds a Bachelor of Arts in music, studying both piano and voice.
Photo Credits
Martin Poole/Photodisc/Getty Images
More Articles