How to Drill a Barrel Lock
If you have lost the key and need to gain access to something locked with a barrel or cylinder lock, the easiest way to remove the lock and gain access is to drill the lock out. Calling a locksmith can be expensive, but providing you use drill bits that are made for drilling into metal, you should be able to complete this task yourself relatively quickly and easily.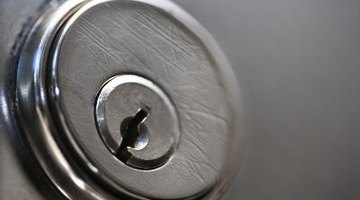 Step 1
Place a piece of masking tape over the lock. Press it down firmly, so you can see the small circular area in the center of the barrel. The masking tape will minimize residue from the lock flying out during the drilling process.
Step 2
Drill into the lock at medium speed for approximately 3/4 inch. Use a 3/16-inch drill bit and keep it as straight and level as possible, while drilling.
Step 3
Continue drilling at a slow speed until you feel the drill bit catch the latch bar, which will pop open the lock.
References
Resources
"Locksmithing, Lock Picking & Lock Opening"; William Picket; 2010
Tips
Wear safety goggles while drilling to prevent metal residue flying into your eyes.
Warnings
Do not drill out a lock on an item that does not belong to you without the owner's permission.
Writer Bio
Helen Harvey began her writing career in 1990 and has worked in journalism, writing, copy-editing and as a consultant. She has worked for world-class news sources including Reuters and the "Daily Express." She holds a Master of Arts in mass media communications from Cambridge University in the United Kingdom.
Photo Credits
Thinkstock/Comstock/Getty Images
More Articles