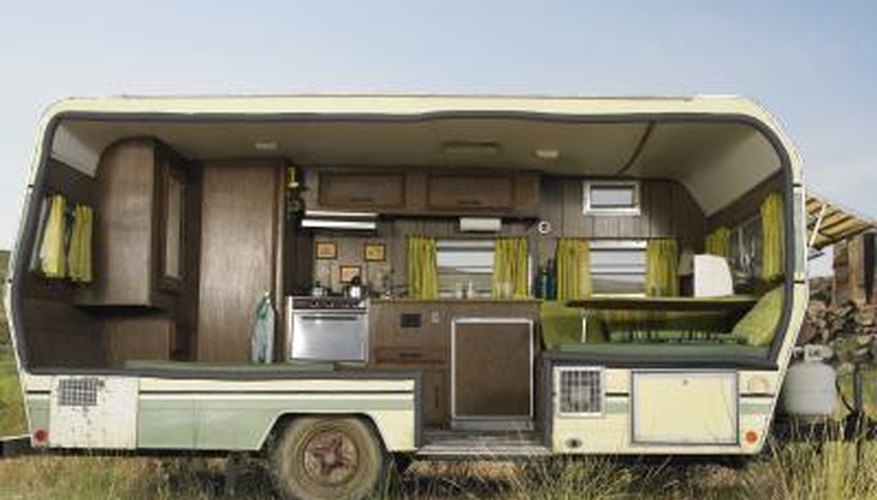 You can purchase them for relatively little cost, but you must consider how much you will have to spend for any upgrades. Cabinets purchased at consignment shops, close-out sales and flea markets are often perfect for these types of projects. Good-quality paint or stain can yield excellent results in revamping old cabinets without having to replace them. Because floor space and storage space are usually limited in most mobile homes, the cabinets are important for clutter control and a neat environment.
Step 1
Use a flashlight to examine the interior of cabinets already in place. Look for roof or wall leaks behind cabinets at the kitchen sink or in the bathroom. Check out every square inch of wall cabinets or upper cabinets installed for storage over a sofa or bed. Look for mold, which is a known health hazard. Never start remodeling an old mobile home until leaks are repaired and mold is taken care of completely.
Step 2
Replace damaged cabinets with new cabinets from close-out sales. Pry loose the old cabinets from framing and take them outside the mobile home. Clean all flooring and wall surfaces behind the removed cabinets. Make sure all holes or gaps are filled with putty or wood filler before attempting to position new cabinets.
Step 3
Install new kitchen cabinets with appropriate countertops. Use inexpensive countertop materials made of acrylic or Formica over pressed wood or plywood. Create a backsplash area with faux tin tiles made of acrylic. Use light colors to make the kitchen spaces look larger. Paint cabinets that don't need replacing with a high-quality paint that includes primer.
Step 4
Use artistic touches to recycle existing cabinets that are sturdy. Paint stenciled designs on old bathroom cabinets, for example. Install new wallpaper and add new towels to give the bathroom a fresh look. Don't always remove old cabinets if they are well-made. Replace old hardware or add new doorknobs only for a quick redo.
Step 5
Buy new doors and brushed nickel hardware to install on existing cabinetry above beds and sofas. Paint the cabinetry in your preferred color. Don't try to dismantle overhead cabinets unless you need to make repairs from leaks. Secure the doors in place with added screws using an electric screwdriver, so they will last many more years without shifting.
Things You Will Need

Flashlight
Crowbar
Putty
Wood filler
New cabinets
Countertop material
Paint
Stencil patterns
Wallpaper
New towels
New cabinet hardware
Door knobs
Cabinet doors
Screws
Electric screwdriver