How to Inflate an Eddie Bauer Insta-Bed
If you need an extra bed for when guests stay over at your house, the Eddie Bauer Insta-Bed can be a good choice. This portable bed is designed to be easy to use, and when you are done with it you can simply deflate it and pack it away for easy storage. The Eddie Bauer Insta-Bed even comes with its own air pump to make inflating and setting up the bed fast and easy.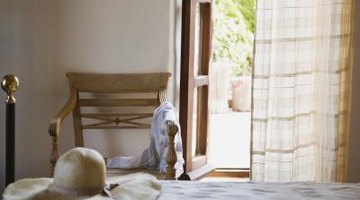 Step 1
Place your Eddie Bauer Insta-Bed where you want it in the room. Unzip the storage case completely and lay the panels out flat on the floor.
Step 2
Plug the cord into an electrical outlet and turn the knob on the built-in air pump to the inflate position. Watch the bed as it begins to inflate.
Step 3
Press your hand flat in the center of the bed to test the firmness of the Insta-Bed mattress. Turn off the air pump when the bed is properly inflated. Unplug the cord and pack it into the storage compartment.
References
Writer Bio
Based in Pennsylvania, Bonnie Conrad has been working as a professional freelance writer since 2003. Her work can be seen on Credit Factor, Constant Content and a number of other websites. Conrad also works full-time as a computer technician and loves to write about a number of technician topics. She studied computer technology and business administration at Harrisburg Area Community College.
Photo Credits
Jupiterimages /Polka Dot/Getty Images
More Articles