How to Change the Water Line in a Freezer Door
Many side-by-side refrigerators have a water and ice dispenser built into the freezer door. If water pours from the bottom of the refrigerator when you press the water button, a broken plastic water line is the likely cause of the problem. You can change the water line to get the dispenser working again. Replacing the freezer door water line in a side-by-side refrigerator requires some disassembly. Consult an appliance technician if you're not comfortable performing this repair yourself.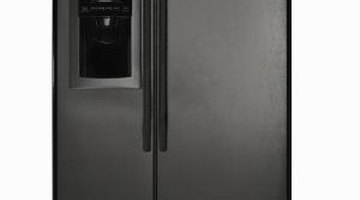 Step 1
Unplug the refrigerator from the electrical outlet before servicing it to avoid serious injury. Turn off the tap that supplies the water to the appliance.
Step 2
Open the refrigerator and freezer doors. Remove the grille plate from the base of the refrigerator to access the water line connector. Some refrigerator models require you to remove screws to free the plate, while others have a plate that simply snaps on and off.
Step 3
Detach the connector on the clear plastic water line; push, twist or pull the connector apart. Remove the connector piece from the line on the freezer door side. Allow water from the disconnected lines to spill into a container.
Step 4
Remove the screws securing the water and ice dispenser panel to the front of the freezer door. Check for slots at the bottom of the panel if your model doesn't have screws. Insert a small flat-head screwdriver into the slots and gently pry off the dispenser panel.
Step 5
Find the plastic water line sticking out of the dispenser assembly. Remove the screw or release the retaining tab holding the line in place. Pull the old water line up through the freezer door.
Step 6
Thread the replacement water line into the hole on the dispenser assembly and guide it through the door. Fit the removed connector piece onto the end of the new line. Snap the connector pieces together to join the freezer door and water supply lines.
References
Black & Decker Complete Guide to Plumbing, Expanded 4th Edition; Creative Publishing
Tips
Reverse the procedure to replace the grille plate and dispenser panel. Plug in the refrigerator and turn on the water supply. Hold down the water dispenser button to fill the new line.
Warnings
Changing the freezer door water line may void your refrigerator's protection plan. Review the terms of the agreement before attempting self-repairs.
Water line replacement procedures may vary by brand and model. Contact the manufacturer or consult your owner's manual for more information.
Writer Bio
Megan Mattingly-Arthur has been writing professionally since 1998. She has contributed to various publications, including "Teen Voices" and "Positive Teens" magazines, as well as a book, "The Young Writer's Guide to Getting Published." Mattingly-Arthur is studying travel and tourism through Penn Foster Career School.
Photo Credits
Ryan McVay/Photodisc/Getty Images
More Articles